Giant helicopter helps fight fires in Fort Smith, N.W.T.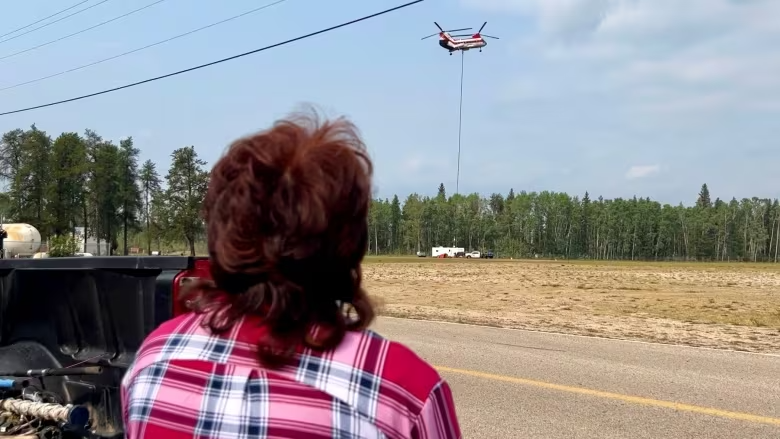 By Carla Ulrich · CBC News ·
'It can drop more water with a shorter turnaround'
The Northwest Territories is deep into a long and active wildfire season with seemingly no end in sight. With it comes an increase in air traffic and this year some heavy hitters have joined the fleet.
Parks Canada contracted a heavy lift helicopter, a Boeing Vertol 107, all the way from Portland, Oregon, to assist firefighting efforts in Wood Buffalo National Park.
According to Parks Canada, the Vertol helicopter has a water bucket capacity of 4921 Litres or 1300 gallons which is 6.5 times more water than the more commonly used bucketing helicopters can carry.
The Vertol also has four high-speed pumps that can fill the bucket in water as shallow as 35 cm or 14 inches in 90 seconds.
"This makes it extremely effective for fighting wildfires as it can drop more water with a shorter turnaround time, and the force of water released can help reach fire burning deeper in the ground," wrote Parks Canada.
Louise Beaulieu has an extensive history in wildland firefighting. Her first ride on a Vertol 107 happened in 1979 when she was working as a cook at a fire camp in the Grande Detour area of Salt River First Nation, just west of Fort Smith, N.W.T.
"The fire got away and out of control," she said. "[The Vertol 107] came and picked us off the island to bring us back into the community."
Beaulieu said it was one of the biggest helicopters she's flown in, adding that it can take up to 25 people at a time.
"The inside of the machine is like stepping into your house, it's like stepping into a big open kitchen and living room area," she said. "It is very extremely huge in there."
There is also a powerful downdraught from the rotors, she added, saying that she had to approach the Vertol a certain way to make sure she didn't lose her footing.
"I was 100 pounds soaking wet," she said, adding with a laugh that the downdraught was almost strong enough to blow her to Fort Smith. "The rotors are very strong!"
Beaulieu has now had several opportunities to work with the Vertol during her 26 years on the fire line as a crew boss. She said it's a very powerful machine.
"I've had the opportunity to work underneath these helicopters and guide them into fires," she said. "So I know what they're capable of doing."
"You don't want to be underneath it when [the water] is dropping. And you make sure that … you've got a crew that understands that and can get out of the way in time."
She added that when the crew on the Vertol is travelling, they also have their own maintenance crew that travels with them and is able to fix whatever they need at a moment's notice.
"They have the extra gear and everything. The pilots themselves do have some experience … but usually, it's the maintenance crew that deals with all the fixing … of the machine."
Not commonly seen in the north, Beaulieu said, the Vertol is usually only mobilized in extreme firefighting situations like the one we are experiencing this year.
"If you're in extreme fire conditions like we see right now that's threatening community or threatening livelihood then we'll see this machine. Otherwise, we won't see them."
Beaulieu added that in the case of out-of-control fires, she has no doubt this machine is up for the task.
"If I had a chance to use them on every fire and guarantee that fire was going to be put out, I want to use this machine," she said.
Related stories from around the North: 
Canada: Yukon's wildfire season 'escalated dramatically' over last week, with 80 new starts, CBC News
Iceland: Int'l Arctic emergency marine exercise will lead to better response coordination, say participants, Eye on the Arctic
United States: Wildfires in Anchorage? Climate change sparks disaster fears, The Associated Press