Cabins near Duncan Lake, N.W.T., at risk with wildfire burning nearby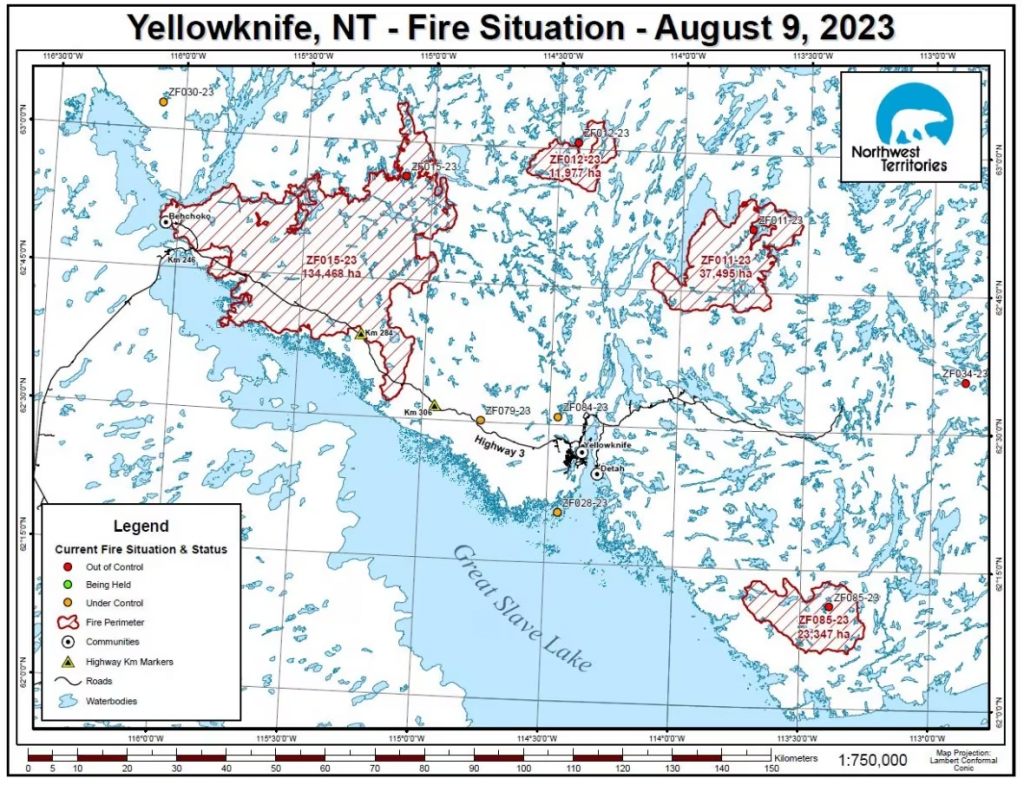 The fire has been burning since June 29 and 1 cabin was lost 'several weeks ago'
N.W.T. Fire says "numerous" cabins are at risk of burning in a wildfire near Duncan Lake, about 50 to 55 kilometres from Yellowknife.
The fire's burn area has grown to about 37,500 hectares and is pushing along the southwest side of the lake. It is about 18 kilometres from the Ingraham Trail highway at its closest point, 12 kilometres north of Prelude Lake, 11 kilometres northeast of Prosperous Lake, and four kilometres south of Island Lake.
In its latest update, N.W.T. Fire said property owners along the Ingraham Trail are not at risk, but those along the lakes mentioned above should set up sprinklers and clear fire fuel around their homes and cabins.
"At this time all of this is precautionary. That area remains not at immediate risk. However, it is important to take steps ahead of time when a wildfire is active in your area," said Mike Westwick, fire information officer with the territorial government.
One tour operator in the area has been trying to fend off the fire for weeks.
Controlled burns, airtankers and helicopters
According to the territory's wildfire map, the fire has been burning since June 29. N.W.T. Fire said one cabin was burned "several weeks ago."
The update said crews were working to protect structures near Duncan Lake "as able."
"Severe fire behaviour has meant direct attack has been limited for safety reasons," reads the update
So far, crews have completed some controlled burns in the area, with more possible if conditions allows. Airtankers and helicopters have focused on limiting the fire's growth to the south.
-Written by Francis Tessier-Burns with files from Lawrence Nayally
Related stories from around the North: 
Canada: Nunavik health board issues smoke alert for two communities, Eye on the Arctic
Norway: Smoke from Canadian wildfires forecast to reach Norway, The Associated Press
Russia: New NOAA report finds vast Siberian wildfires linked to Arctic warming, The Associated Press
United States: Wildfires in Anchorage? Climate change sparks disaster fears, The Associated Press