Transport closures empty shelves, leaving some N.W.T. communities without groceries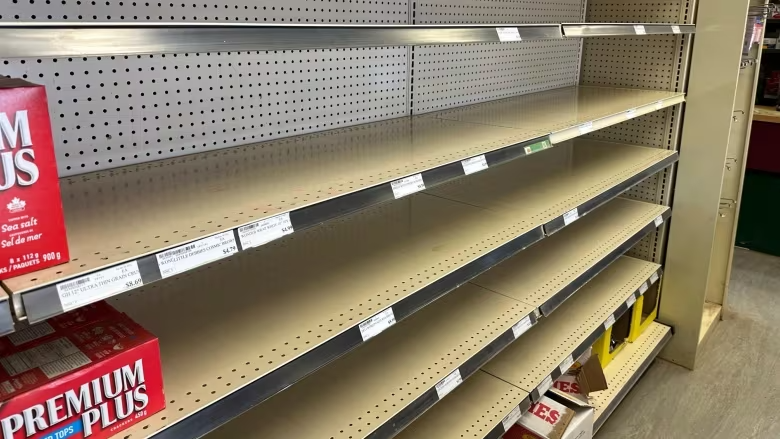 'People are people and they bought out the store in about two days,' says Łútselk'e Co-op manager
Shelf-stable milk and crackers are among all that's left in some N.W.T. grocery stores located outside of the capital city.
Wildfires have interrupted N.W.T. supply chains by closing highways and limiting flights out of the Yellowknife airport.
For Łútselk'e, N.W.T. — a fly-in community on the east arm of Great Slave Lake — that means the community's one grocery store is stuck with empty shelves while awaiting deliveries.
Joe Yatkowski, manager of the Łútselk'e Co-op, is used to receiving shipments of goods seven days a week.
"Now I have none," he said. "And everybody knows there's none. So you know what happens? People are people and they bought out the store in about two days."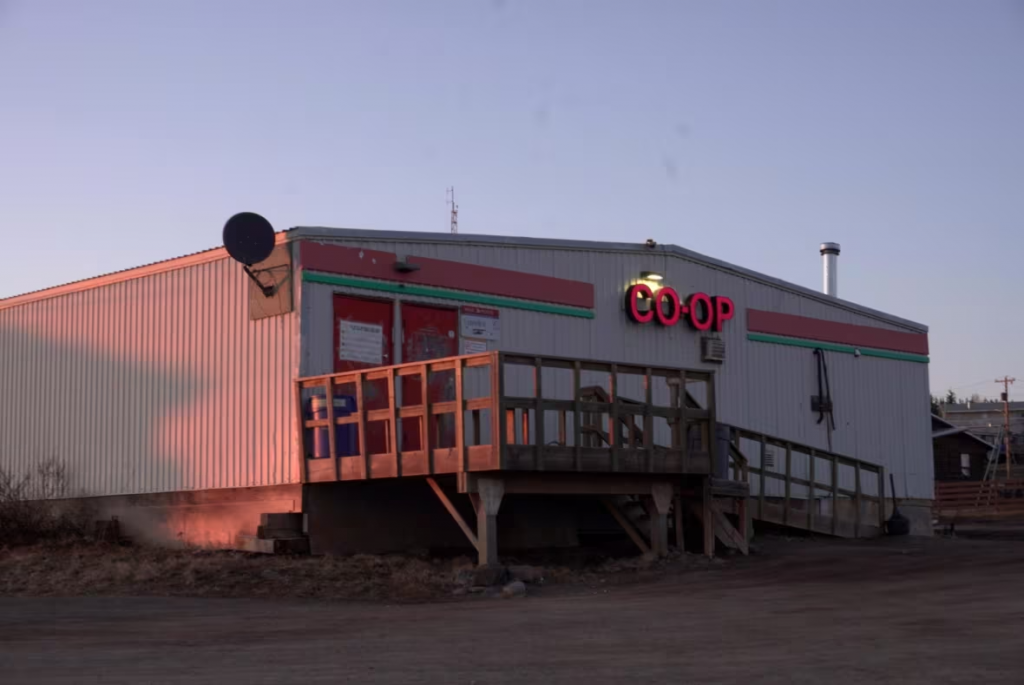 Yellowknife-based airline Air Tindi carries shipments to the N.W.T. communities of Łútselk'e, Whatı̀, Wekweètı̀ and Gamètı̀ as part of its regular service. The airline is still operating and says it is continuing to fly groceries into communities.
However, now it is flying out of Edmonton — and that's driving up costs in a big way.
Yatkowski said a 3,100-kilogram food shipment — about 7,000 pounds — would normally cost about $5,000 before the Nutrition North subsidy. Now, that same shipment is billed at approximately $50,000.
Yatkowski points to a four-litre container of milk which would normally cost about $7 after the Nutrition North subsidy. If a tenfold freight increase was reflected in the price, that same container of milk could cost as much as $70.
"What mother can buy that for their babies?" he said.
He says Frontier Lodge, owned by the Łútselk'e Dene First Nation, offered to pay half the cost of the flight from Edmonton, and the Łútselk'e Dene membership contributed part of their impact benefit agreement money to keep prices level for buyers.
He says the community received a shipment of milk and produce before Yellowknife's evacuation order on Aug. 16, and another shipment of shelf-stable food came in on Aug. 20. He says community members' buying habits will dictate how long that will last.
Without knowing how long closures will continue, Yatkowski says it's difficult to know whether they should spend the money or try and hold off for regular operations to resume.
"It's a perpetual cycle of trying to hold to the last second until we're completely out."
Road closures also cause concern
In Fort Resolution, N.W.T., resident Rosy Bjornson says their grocery supply is also dwindling.
She says stores in the South Slave hamlet haven't received a grocery re-supply since Hay River evacuated on Aug. 13.
"Our shelves are emptying," she said.
The wildfires that triggered evacuation orders for Hay River, Kátł'odeeche Fırst Natıon, Enterprise, Jean Marie River and Kakisa have also forced highway closures. Without access to Hay River — known as the "hub of the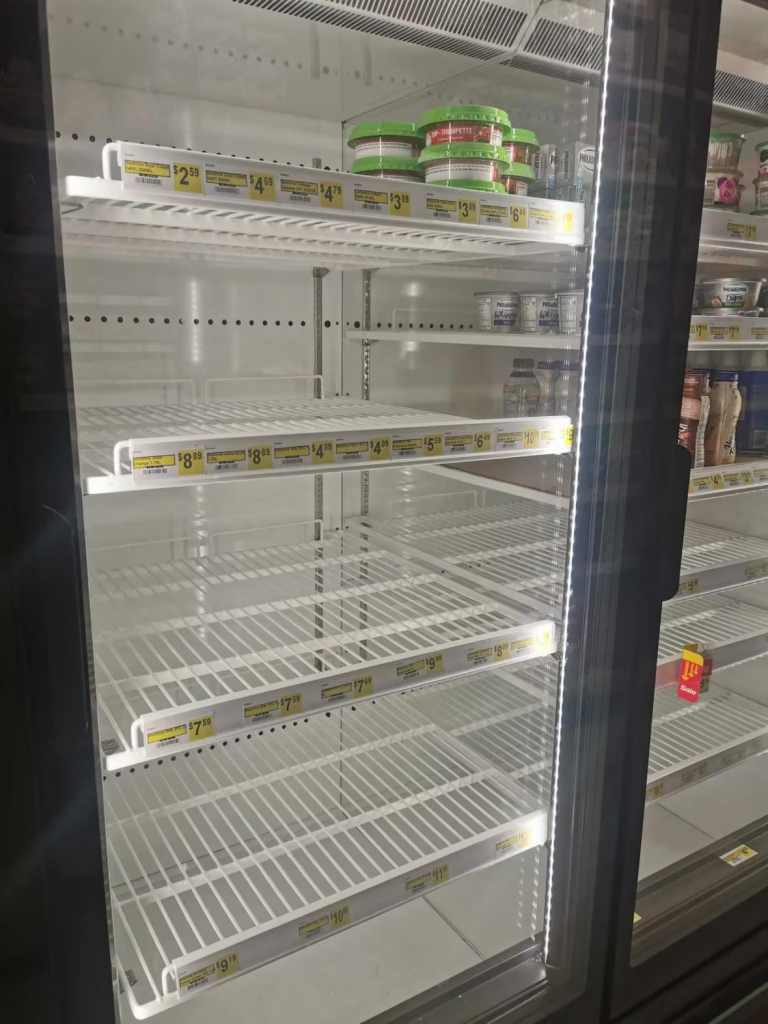 North" for its connection to highways and routes that transport southern supplies to other northern communities — Bjornson says residents are without food shipments or mail deliveries.
Bjornson says that she and her children's father drove to High Level, Alta., for groceries — a trip exceeding 450 kilometres each way. They had heard that despite the highway closure cars were allowed to pass.
"It was labelled closed, we had no idea what to expect, we just took that chance," she said.
Bjornson says when they traveled on Aug 18, there were wildfire crews working on hotspots, burned power poles on the sides of the road, but no road blocks stopping them from driving the highway.
She says they spent about $600 on groceries for their family and picked up additional food for others.
Chris Reynolds, president of Air Tindi, thinks government should step in with a subsidy to support residents in remote communities.
"I understand why they're upset, I mean, it's a food security issue with the cost," he said.
He says his airline has continued to fly into N.W.T. communities every day to deliver shipments.
'No reason why the food would not be going to these communities'
In a Monday night news conference, Jennifer Young, spokesperson with the territory's emergency management organization, said that the territorial government is making sure food still gets into communities.
"We are working on options to assure that there's food supply to appropriate communities."
Jeffrey Edison, an acting assistant deputy minister with the department of infrastructure (INF) added that though the Yellowknife airport was closed to commercial flights, it would be open for flights related to humanitarian needs and that would include food deliveries.
"There's no reason why the food would not be going to these communities if we are talking about using Yellowknife as the airport," Edison said.
A spokesperson for the government was not immediately available to explain the discrepancy.
Yatkowski, the Łútselk'e Co-op manager, said he has been in touch with INF staff but based on those comments at Monday's news conference he doesn't think his concerns are making it to the right people.
"There's been a major breakdown of communication that's left us high and dry," he said, adding that he's hearing residents gripe about a lack of government intervention.
"We're not asking for much, we're asking for food at a reasonable price."
Related stories from around the North:
Canada: N.W.T. says no financial aid for evacuees who organized own travel, accommodations, CBC News
Norway: Smoke from Canadian wildfires forecast to reach Norway, The Associated Press
Russia: New NOAA report finds vast Siberian wildfires linked to Arctic warming, The Associated Press
United States: Wildfires in Anchorage? Climate change sparks disaster fears, The Associated Press