N.W.T. premier says PM committed to 'accelerating' territorial infrastructure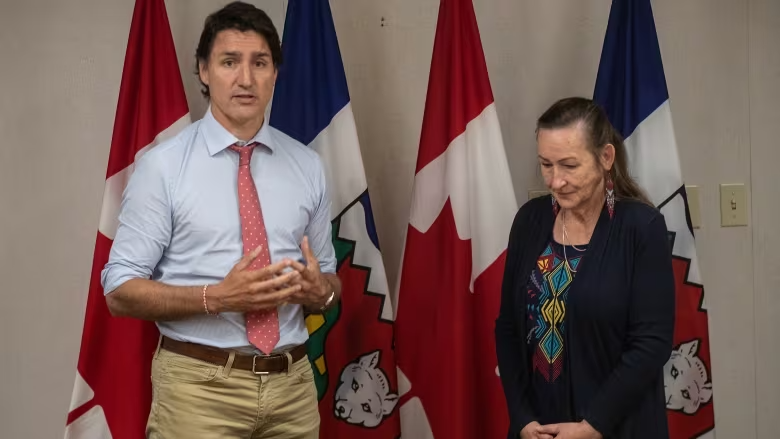 Caroline Cochrane says she hopes Trudeau will visit the N.W.T. after the wildfires, his first visit in years
N.W.T. Premier Caroline Cochrane says the federal government is committed to "accelerating" infrastructure projects in the territory.
This came after a meeting with Prime Minister Justin Trudeau in Edmonton on Saturday morning.
Speaking with CBC News after the meeting, Cochrane said no dollar figure was provided on infrastructure spending, but she was given some assurances.
"He did make a commitment that we would be looking at accelerating the infrastructure that's needed in the Northwest Territories," she said, noting this would include road systems.
Cochrane decried lack of resources in N.W.T.
The meeting came just a day after Cochrane decried the lack of resources the territory receives from the federal government, describing it as a "third world country."
"We don't have basic infrastructure that every Canadian takes for granted," she said.
Cochrane said she expected Trudeau to be "a little bit angry" with her in their meeting, but was surprised by his reaction.
"Nobody likes getting slammed, but he was actually very compassionate and understanding of the frustration I'm experiencing," she said.
Cochrane says she hopes Trudeau will visit the N.W.T. after the wildfire risk has passed. That would be his first visit to the N.W.T. since before she was elected premier in 2019.
When asked about this absence, Cochrane said "it's disappointing when any minister doesn't come up."
"They represent all of us, not just the southern jurisdiction," she said.
"It's one thing to talk about the North and what our challenges and our strengths are. But if you don't actually see it you don't really understand what we're dealing with."
CBC News reached out to Trudeau's office for an interview but he was not be available.
Infrastructure, telecommunications, climate change discussed
A spokesperson sent a news release addressing what was discussed, which included "investments in infrastructure, telecommunications, and climate change mitigation and adaptation." No details on the investments were included.
Before the meeting, while addressing reporters, Trudeau credited Cochrane's leadership — although he mispronounced her first name.
"You were one of the last ones out of Yellowknife, helping people to the very last moments and what you're doing now, absolutely focused on them is true to the person you are and true to the leader you are," he said.
Trudeau also said the federal government would remain committed to helping the territory through the crisis.
"The federal government will continue to be there, whether it's right now with resources," Trudeau said.
"We're also going to be there for the long term. As we look at how we build more resilient infrastructure, how we support people living in the north, how we plan for you know, the worse climate change impacts."
Cochrane said she also received assurance from Trudeau that the waiting period for Employment Insurance will be waived for N.W.T. residents.
"He has agreed to be flexible with that so that people won't have to wait long term for their EI," she said, stressing that evacuees who lost income should apply.
Related stories from around the North: 
Canada: Transport closures empty shelves, leaving some N.W.T. communities without groceries, CBC News
Norway: Smoke from Canadian wildfires forecast to reach Norway, The Associated Press
Russia: New NOAA report finds vast Siberian wildfires linked to Arctic warming, The Associated Press
United States: Wildfires in Anchorage? Climate change sparks disaster fears, The Associated Press