Canada and Greenland sign letter of intent on marine conservation area in Arctic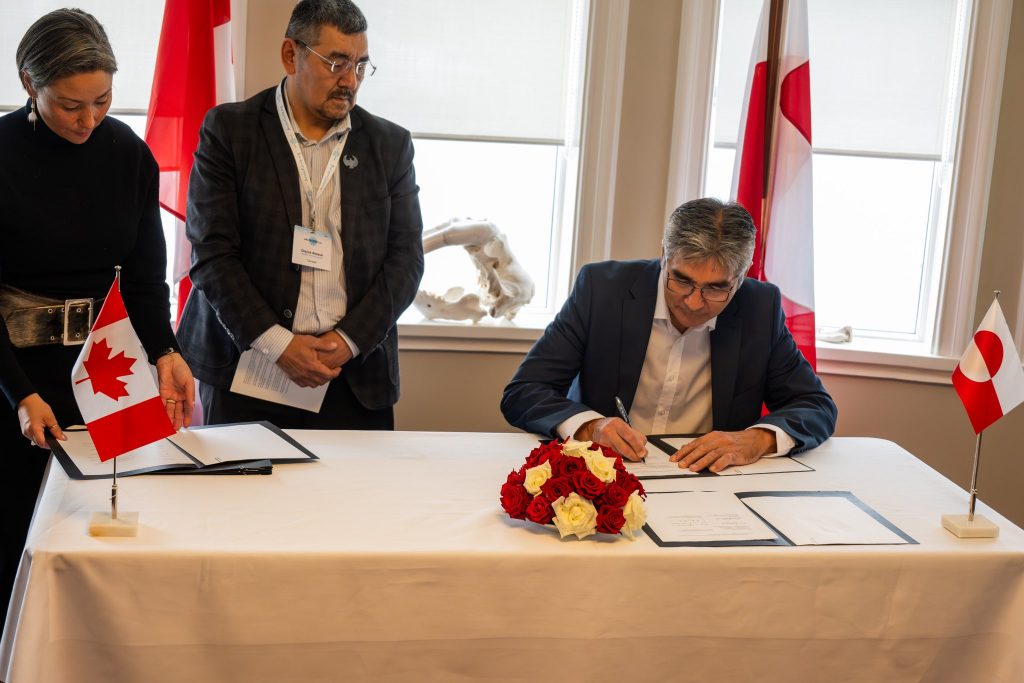 Canada and Greenland signed a letter of intent concerning the conservation of a marine area between their two territories, the latest step in a long process started by Inuit that goes back almost a decade.
"This is a milestone for closer collaboration with our international partners and Inuit communities, and is an important step towards ensuring this critical body of water remains healthy and supports the needs of Inuit for years to come," Diane Lebouthillier, Canada's minister of Fisheries, Oceans and the Canadian Coast Guard, said in a statement. 
Lebouthillier signed the letter of intent with Greenland's Minister of Agriculture, Self-Sufficiency, Energy and Environment Kalistat Lund in Reykjavik on Thursday. 
"Citizens in the area feel the changes in nature and in the behavior of animals as a consequence of increased activity and climate change," Lund said. "Dealing with these changes is a common challenge across national borders, and it is gratifying that we are now entering into closer cooperation with Canada on this matter."
🇨🇦 and 🇬🇱 join forces for the conservation of the Pikialasorsuaq

Virtually in #Iceland, my Greenlandic counterpart Kalistat Lund and I signed a letter of intent today to ensure the health of this Arctic polynia so important for Inuit for years to come.https://t.co/m9COCBekmj pic.twitter.com/bj31PUzzNh

— Diane Lebouthillier (@DiLebouthillier) October 19, 2023
Largest polynya in the Arctic
The North Water Polynya, also known by its Greenlandic name Pikialasorsuaq, and by Sarvarjuaq, in Nunavut, is a unique area of water between Greenland and Canada's eastern Arctic territory of Nunavut.
It's confluence of strong ocean currents means it stays ice-free year round, making it an ecologically rich area important for wildlife activities like mating and feeding.
Ecological Importance of Pikialasorsuaq
largest polynya in the Arctic

ice-free year round
rich feeding area during plankton explosion in spring
key location for migratory species
important bird and wildlife location for breeding, reproductive activities and forging
crucial area for fish, birds
vital marine mammals like

walrus, beluga and bowhead whales, narwhals, ringed, bearded and harp seals, and polar bears
Source: Government of Canada
Ottawa says the letter is the first phase towards a joint steering committee that will oversee the area.
The committee will have representatives from Inuit groups and governments from both Canada and Greenland and will focus on conservation and ecosystem-based management of resources.
The body will be informed by both Indigenous knowledge and scientific research.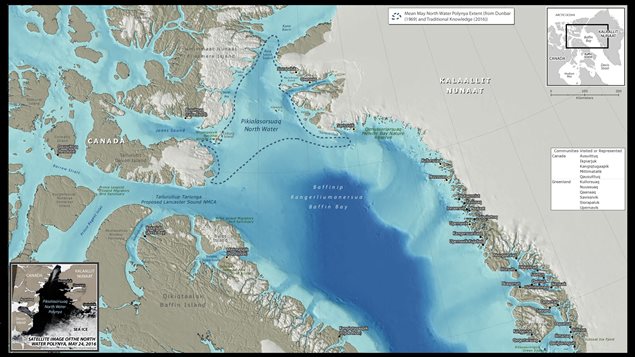 The Inuit Circumpolar Council represents the approximately 180,000 Inuit in Alaska, Canada, Greenland, and Chukotka, Russia and has long pushed for Pikialasorsuaq to become a marine protected area co-managed by Inuit. 
No one from ICC responded to a request for comment for this story, but in an emailed statement said Thursday's letter was to be applauded.
"We believe that this initiative provides a unique opportunity for us to come together to strengthen Inuit led marine conservation and build new approaches where Inuit share in marine governance and future opportunities," ICC International Chair Sara Olsvig said.
Free mobility still to be advanced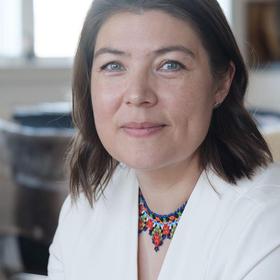 In addition to conservation and resource management, ICC has also advocated for Inuit to be able to travel freely across the water way as they did before the Canada-Denmark border was established.
The Ottawa statement did not address cross-border mobility, but Olsvig said ICC will continue to work towards the goal.
"The Pikialasorsuaq region bears a deep cultural significance to Inuit, and an invaluable ecological value to the planet. Our main incentive is to maintain access to the living resources generated from Pikialasorsuaq for generations and generations to come," she said.
"Going ahead, we will continue to advance the mobility Inuit once enjoyed moving freely within Inuit Nunaat and by doing so maintaining our family connections and our culture".
The letter of intent was signed on the margins of Iceland's Arctic Circle Assembly, a northern affairs conference.
Comments, tips or story ideas? Contact Eilís at eilis.quinn(at)cbc.ca 
Related stories from around the North: 
Canada: Conservation an important path forward for Nunavut's economy, says report, Eye on the Arctic
Finland: Conservationists find more critically endangered Arctic fox cubs in Finnish Lapland, Yle News
Norway: Climate change hits back at Svalbard, coal mine flooded by melting glacier in Norway, The Independent Barents Observer
Russia: Oral histories unlock impact of climate change on nomadic life in Arctic Russia, says study, Eye on the Arctic
Sweden: Extra billions to SAS – but with stricter climate requirements, Radio Sweden
United States: Conservation groups sue government over Alaska mining road, The Associated Press