Baffinland gets OK to ship more ore from Nunavut mine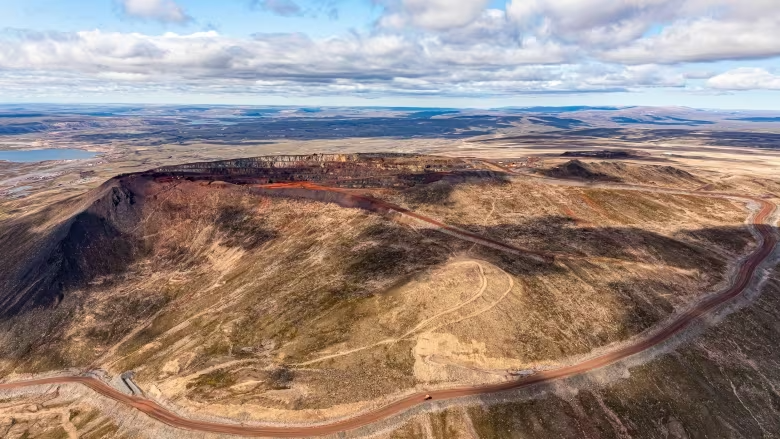 Mining company can ship 6 million tonnes of ore annually until Dec. 31, 2024
Baffinland Iron Mines Corp. has been given the OK to ship more ore from its Mary River mine in Nunavut.
The company can ship up to six million tonnes of ore per year until Dec. 31, 2024 — that's up from 4.2 million tonnes per year.
Northern Affairs Minister Dan Vandal approved the plan following a recommendation from the Nunavut Impact Review Board (NIRB).
Baffinland has in past requested, and been approved for, similar such temporary increases.
The new proposal also allows Baffinland to ship more than six million tonnes of ore in any one year from Milne Inlet, if "unexpected circumstances" meant there was ore stockpiled at the port from the previous year. For example, in 2022, some ore was stranded at the port when heavy ice put an early end to shipping operations.
Approval comes with stipulations 
The company submitted its "sustaining operations proposal" in early 2023, months after the federal government rejected the company's proposed Phase 2 expansion project. That project would have seen the company shipping up to 12 million tonnes of ore per year from the mine, and would have involved the construction of a new railway to the Milne Inlet port.
The approval of Baffinland's latest proposal comes with stipulations that Baffinland prevent or limit "the potential for significant adverse ecosystemic and socio-economic effects," according to a news release from the NIRB on Nov. 17.
A project summary on the NIRB's website says that Baffinland's sustaining operations proposal does not suggest changes to ore extraction.
The hamlets of Arctic Bay and Sanirajak, Nunavut, have previously written to the NIRB urging the board to approve Baffinland's proposal. The mayor of Pond Inlet, Nunavut, has also written to NIRB to express support on behalf of the hamlet council.
HTO questions monitoring and mitigation promises 
Meantime, the Mittimatalik Hunters and Trappers Organization (MHTO) in Pond Inlet has written to NIRB questioning Baffinland's promises to monitor and mitigate any ongoing impacts from the mine.
The review board also says it consulted with Nunavut Tunngavik Inc. and the Qikiqtani Inuit Association before recommending approval of Baffinland's project amendments.
Earlier in November the NIRB also says it hosted a "multi-party" workshop to update monitoring plans for the project and discuss effects.
The NIRB says it will remain in contact with regulators to support permitting required with the changes and with Baffinland to monitor the project.
Related stories from around the North: 
Canada: Digging for green minerals a priority for the North, says Canadian minister, CBC News
Greenland: Greenland grants two further exploration licences to Amaroq Minerals, Eye on the Arctic
Norway: Arctic Economic Council appoints new Chair, Eye on the Arctic
Sweden: Swedish developer plans to build greenest iron mine in Kirkenes, The Independent Barents Observer
United States: Companies announce investment in major Alaska oil project, Alaska Public Media