Norway and Russia join forces in Arctic response drill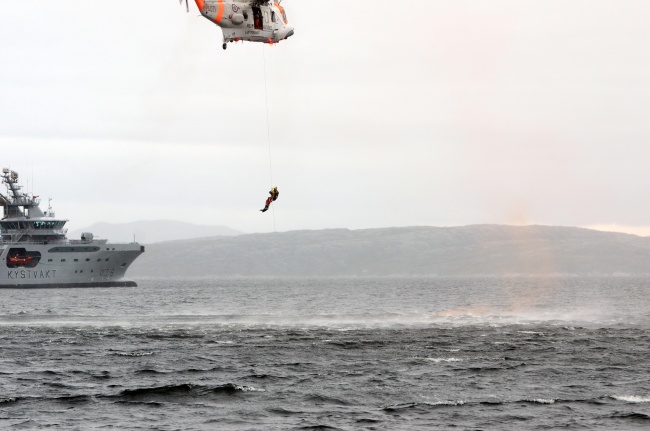 Despite the chill in regular military cooperation, Norwegian and Russian rescue centers will team up with coast guard forces from both countries for a joint exercise on search and rescue and oil spill preparedness.
The joint exercise "Barents 2015" will be arranged as planned in the border areas in the Varanger Fjord in June, Alf Kristiansen at the Norwegian Coastal Administration tells BarentsObserver.
The annual exercise takes place in the Varanger Fjord in the beginning of June on both Russian and Norwegian territory. Planning of the exercise alters between the two countries, and this year it is Russia that is responsible for planning and organizing, and also for the overall management of the drills.
The main partners in these exercises are the Joint Rescue Coordination Center Northern Norway in Bodø and the Maritime Rescue Coordination Center in Murmansk. Both sides normally participate with military vessels or helicopters. In this year's drills Russia will participate with aircraft from the Northern Fleet and from the Coast Guard. Norway will have operational Coast Guard vessels and rescue helicopters.
Ongoing cooperation
The exercise normally consist of two main parts – emergency help to a vessel in distress with subsequent search and rescue drills, and clean-up of oil spills. "Among the objects of the exercise are coordination of the work of the rescue coordination centers, communication and exchange of information, clearance of resources to Norwegian and Russian territory, and situational reporting," Kristiansen says in an e-mail.
Norway and Russian have cooperated on oil spill response in the Barents Sea for more than 20 years. The first joint exercise was held in 1991, and the first agreement and response plan was signed in 1994.
Cooperation between the rescue coordination centers in Bodø and Murmansk has also proved to be fruitful during real accidents. Norway has on several occasions saved Russian sailors in distress, even on Russian territory. In December 2007 twelve Russian sailors were saved from a sinking cargo vessel outside the Rybachi Peninsula by a Norwegian rescue helicopter. The Norwegian crew was later awarded with the Russian medal for noble deed.
In March 2014 Norway suspended all bilateral military activities with Russia, but collaboration will continue in Coast Guard, Border Guard and search-and Rescue activities as well as the workings of the Incidents at Sea Agreement. Contact between the Norwegian Joint Headquarters and the Northern Fleet will continue as well. This is to "ensure the safety of all parties in northern marine areas and to maintain stability and predictability in our immediate region," The Government's web site reads.
Related stories from around the North:
Canada: (Video) Canadian Rangers – The Watchers, Radio Canada International
Finland: Finland to participate in NATO crisis management exercises, YLE News
Norway: Norway launches High North military exercise, Barents Observer
Russia:  More marines for Russia's Northern Fleet, Blog by Mia Bennett
Sweden: Sweden's government scared of NATO facts: Moderates Party, Radio Sweden
United States:  U.S. needs Arctic military strategy says defense secretary, Alaska Public Radio Network