Sabine Venturelli: The Highs and Lows of Practising Refugee Law

Sabine Venturelli was born in France, the daughter of an Italian immigrant. She remembers feeling ostracized because of her father's immigrant status.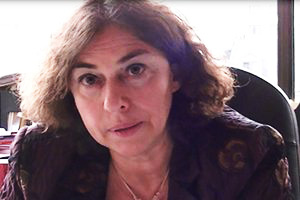 When Sabine immigrated to Montreal, she originally wanted to practice international law. Then she met a refugee from Lebanon, and she found her calling.
Over the years she has helped many refugees prove their cases and settle in Canada. She says half the taxi drivers in Montreal greet her warmly, and recently she encountered a young woman in a boutique, who asked her if she remembered her. When Mme Venturelli said no, the salesgirl reminded her that she had helped her parents when the little girl was five years of age.
Sabine Venturelli tells Carmel Kilkenny about the highs and lows of practicing refugee law in Montreal.