Living Without Fear – Gay Syrian refugee couple among first arrivals

Dany Ramadan and his partner Aamer, are enjoying their first autumn in Canada, thanks to the sponsorship of a group of supporters in Vancouver.
The gay couple are among the first refugees from Syria to arrive in the west-coast city. They left Beirut, Lebanon and arrived in Canada on September 9th.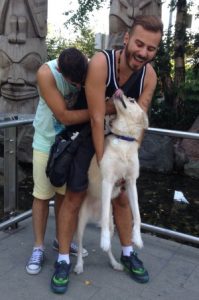 Gay men, children, religious minorities and women facing sexual violence, have all been identified by the Canadian government as being the most vulnerable of Syrian refugees.
The war in Syria has driven more than 3 million people from the country, and the number continues to grow. While Canada committed to receiving 1300 refugees from Syria by the end of 2014, there has been growing criticism about delays.
Ron Rosell is one of Dany and Aamer's sponsors. (Aamer will not reveal his face or his last name as he has not come out to his family.) Rosell explained to the CBC's Margaret Gallagher that, "For a student visa it takes two months. For a sponsored refugee it takes at least a year, if not longer… in that time a lot can happen; you can get killed," he said.
Dany Ramadan desribed the arrival in Canada as, "beyond my dreams." "Here, I have the ability to be myself finally," he said. "I have been gay-bashed in the Arab world. My family disowned me at times. But here, I feel like I have a family somehow."
Rainbow Refugee, an advocacy group for those fleeing persecution based on sexual orientation, was also involved in bringing Aamer and Dany Ramadan to Vancouver, British Columbia.