Leslie Oliver – Descendant of refugees fleeing slavery in the United States in 1814

It was Leslie Oliver's mother who traced her husband's family history and kept it alive. She was searching for more information on Adeline, the wife of Moses Oliver. The couple had endured a life of slavery on a plantation in Maryland in the United States. In 1814, the British, engaged in a war with the United States, sailed up the Potomac River, offering freedom to any slave who could escape to their ships.
Almost 200 years later, in a chance telephone conversation, Leslie Oliver discovered more of Adeline's story and some of the details of their plantation existence, including the prices on their heads. The couple's one-year old baby was worth $50.
In 1910, Leslie Oliver's father was born in Nova Scotia, where the family stayed over the generations. Moses and Adeline managed to buy land in 1827. Partitioned over the years, eventually some of their descendants took their skills beyond the family farm.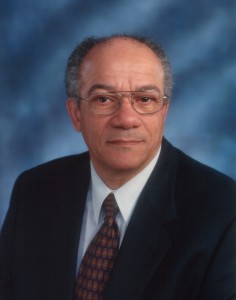 Oliver's great-grandfather, a gifted herdsman, was hired to work the farm that was part of the early days of Acadia, the university at Wolfville, Nova Scotia.
Leslie Oliver was born in Halifax, but he discovered his roots were deep at Acadia where he enjoyed a career as a professor of Computer Science.  He can still identify with newcomers to Canada: "One of the things that I suspect that even modern refugees, modern immigrants will tell you is that, "IT'S DIFFICULT TO GET A FEELING OF REALLY BELONGING, AND REALLY BEING ACCEPTED" And having been part of that community, my father having been born here, my grandfather having been born here, my father having attended the university, he had lots of friends there and I felt really comfortable, didn't feel at all uncomfortable there, and so that was probably important in my progression."
"From Moses to me, is six generations… two Williams, a Clifford, a William and then me."
About three years ago, by happenstance, Leslie Oliver was speaking with an archivist in Maryland, and when the person heard his name, she said, "you won't believe it, but I'm working on a story about someone named Oliver". That was how the final page in the story of Moses and Adeline and the journey to Nova Scotia was revealed.
Leslie Oliver is now researching Adeline's mother, but while he continues to investigate the past, he marvels at the present, and what his grandchildren, the ninth generation of Olivers, might accomplish and contribute.
"I was just so thrilled to start to close some of those open gaps, and it's interesting to see people progressing, and to take a look over six, seven, eight generations. Well I look at my own grandchildren, nine generations, and take a look at it and see where they're heading, and the contribution. We often say we stand on the shoulders of giants and we owe so much to our fore-fathers."