A Canadian woman is on her way attempting to be the first woman to row solo across the Atlantic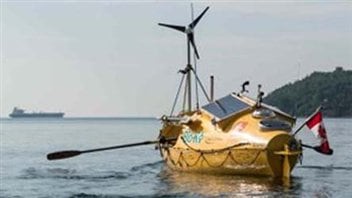 Mylene Paquette, 34, of Montreal set off from Halifax, Nova Scotia this weekend heading to Lorient in France, a trip of 2,700 nm,or about 5,000 km.
She will face some huge potential difficulties including the possibility of hurricane force winds, and enormous waves up to 12 metres high.
It's estimated it will take a million strokes and about 3 months rowing 12 hour days to power the 7-metre boat across the ocean
She began her passion for long-distance rowing while working as a  patient care attendant at Sainte-Justine University Hospital in Montreal. A conversation with a sick child in her care prompted her to change her life at age 27.
In 2010, she was part of a six-member team that rowed across the ocean from Agadir, Morocco to Port-St–Charles, Barbados in 58 days.
The now 34 year-old  The first ocean to be deliberately rowed across was the Atlantic by Frank Samuelsen and George Harbo, two Norwegians, in June 1896. The pair left Battery Park, Manhattan on 6 June 1896 arriving on the Isles of Scilly, 55 days and 13 hours later having covered 3,250 miles (5,230 km). They continued to row to Le Havre, France.
The first solo crossing of an ocean was completed by John Fairfax of Britain on 19 July 1969. He rowed from Gran Canaria in the Canary Islands to Hollywood Beach, Florida in 180 days. In the same year Tom McClean, also of Britain, rowed from Newfoundland, Canada arriving in Blacksod Bay, Ireland on 27 July
In March 2006 Julie Wafaei of Canada became the first woman to row across the Atlantic from mainland to mainland, however as part of a team with her fiancé Colin Angus
Mylene Paquette will document her adventure with photos and stories through social media.