Previously detected in major southern urban centres, medical staff in Sudbury, in northern Ontario, are seeing more cases of complications for people using  cocaine which is being laced with a toxic chemical.  Doctors, other medical officials, and social workers are sounding the alarm about the effects of cocaine cut with the drug "levamisole".
Originally used in the 1970s for treatment of rheumatoid arthritis, use of levamisole was expanded in the 90's to include colon-cancer treatment. However in 2000, the drug was withdrawn from human treatments in the US due to adverse complications, and in Canada it was withdrawn in 2003.
Levamisole is currently used in veterinary medicine to rid animals of parasitic worms (helminths ).
A relatively low-cost drug, its other advantage is that it is a white powder and very hard to notice in cocaine. It's used to increase the volume of cocaine and therefore profits of dealers,
While it is helpful to treat animals, it's toxic to humans. It causes skin cells to die resulting in severe skin conditions. It also kills the body's white blood cells and damages the immune system leaving the person open to serious infections.
When contacted by the press, the Ontario Provincial Police were apparently unaware of "levamisole" in cocaine although Carole Dionne, spokesperson for the the OPP commented that cocaine is often cut with a wide variety of other chemicals.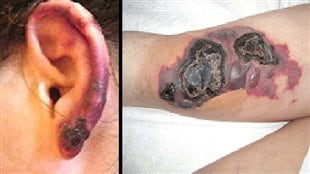 Brazil is a known exporter of cocaine, much of it to North America.  In the past, illegal drugs were shipped out of the originating country in relatively pure state, and usually cut with other products at their destination.  However , last year police in Brazil reported that analysis of various shipments of seized cocaine destined for export showed the shipments contained about 11% levamisole,  They also found however that there was 38% ratio of Phenacetin.
Phenacitin is an antithermic and anesthetic that has been banned in the UK since the 1960s, after it was linked to kidney and bladder cancers. Phenacetin has also been linked to the dissolution of blood cells and necrosis of the kidneys.   In Canada, Phenacetin was withdrawn from the market in 1973 and is prohibited under the Food and Drug Act
Police agencies in the US meanwhile are reporting that their testing of seized drugs shows concentrations of levamisole in cocaine have been steadily increasing since it was first detected a decade ago.