Christine Callaghan is a guide for a Nova Scotia whale watching company in Tiverton, Long Island, in the Bay of Fundy,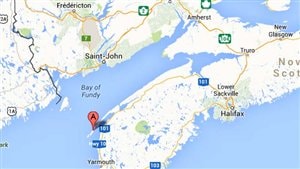 This weekend she had the thrill of a lifetime when a possibly tragic incident turned out to have a very happy ending.
The "Pirates Cove Whale Watching" tour was on an early afternoon cruise into the bay heading toward a whale seen blowing in the distance, when a call came from another boat saying a different whale was in distress not far off.
As they came close to the whale in distress, Ms Callaghan who is familiar with the local whales, recognized it as a female humpback they had named "Foggy".
The whale had lines wrapped around her head near the blowhole, in her mouth and around the narrow section just ahead of the tail flukes and  was dragging several lobster traps behind
The cruise boat called a special whale disentanglement crew from the New Brunswick side of the bay about 80 kilometres away. It arrived about 4 hours later.
The rescue team first cut the rope off the tail, then the ropes around the blow hole. It was decided not to drag the rope out of the mouth as it was felt it would cause too much damage and bleeding. They felt the whale should be able to get that out by herself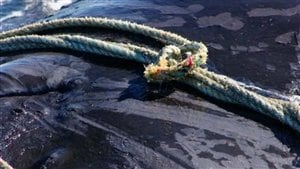 It was interesting to note that another whale named Grommet remained close by Foggy the whole time that boats were moving around.
Ms Callaghan says she believes both whales understood what was happening, as Foggy remained calm and allowed the rescue team to come right beside her while Grommet continually raised its head out of the water to watch what the humans were doing.
One could almost imagine the second whale was pleading for them to hurry.
She said the most amazing thing was that the instant Foggy was freed, Grommet leapt from the water in a huge breach. "Tell me that wasn't a celebration", she said.
After the rescue, she said both whales were seen swimming together up the bay.
In her facebook page, Ms Callaghan wrote." I've been trying to think of words that can adequately describe today's experience on the Bay of Fundy, and most come up short. But plain old 'unforgettable' works, because I know that I, and anyone who was there, will always remember Foggy's rescue this afternoon."