Hobbyist shipwreck hunter Jerry Eliason of Minnesota and colleagues have located what may be the deepest Great Lakes shipwreck.The group found the 129-metre long "Scotiadoc" lying on the bottom of Lake Superior about 265 metres down.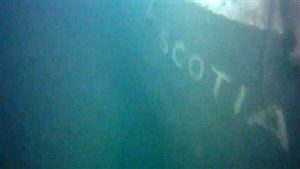 Eliason and his partners have been searching for the Scotiadoc for more than a decade.
He says, "For entertainment [some people] hunt deer or they go fishing … I just fell into a group where … we get enjoyment [from] hunting for shipwrecks,"
The Great Lakes freighter collided with another and went down in June 1953 near Trowbridge Island about 20 km southeast of the city of Thunder Bay, Ontario
Launched in 1904, the ship spent most of its life it as the Martin Mullen but when sold in 1947, the name was changed to Scotiadoc.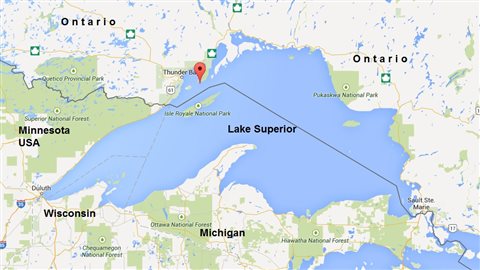 On its last trip, the ship left Port Arthur (now part of Thunder Bay) at 4pm on June 20 1953 loaded with 260,000 bushels of wheat and a crew of 29.  At the same time, the slightly longer "Burlington" was heading toward Port Arthur.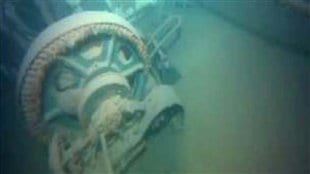 Conditions that day were very poor with thick fog, heavy rain, and visibility only a few hundred metres.
Documents obtained by Eliason of the court investigation showed both ships made crucial errors leading to the collision and the death of one man on the Scotiadoc.
Scotiadoc Captain GE Morris said he picked up the Burlington on radar about 8km away (5 miles), He sounded his fog signals as the ships approached but inexplicably did not communicate by radio, and did not reduce speed in the near blind conditions.
On the Burlington, Captain  GS Ward said he had slowed as his short range radar showed interference and clutter until the other ship showed up about 2km away. He also inexplicably made no attempt to contact the Scotiadoc by radio.
He testified he never heard the Scotiadoc whistle until the ship was almost upon them and immediately tried to reverse engines but struck the Scotiadoc fatally on the starboard side at an angle near the stern.
The Scotiadoc crew jumped into two lifeboats, but one launch was mishandled throwing a few people into the frigid water, where one man was lost. The crew was picked up about an hour later by the Burlington whose bow was severely smashed but which remained afloat.
The court ruled the Scotiadoc 75% responsible, the Burlington 25%.
Eliason said the ship rests upright, and largely intact. The Scotiadoc's pilothouse broke off as it sank and came to rest beside the ship; the stern appears to be mangled.
"It looks to us like it sank stern-first," Eliason said. "The stern is very chaotic.".
This would appear to confirm testimony of a collision near the stern.
The Scotiadoc is now the deepest discovered wreck in the Great Lakes. The previous record was the finding of the Isaac Jenkins in Lake Ontario at about 228 metres.