Eastern Canada and the North-eastern US states are the world's largest producers and exporters of natural maple syrup products.
Now, a  new study has shown that 100% maple syrup has a number of advantages over other types of sweetener
A team from the University of Laval at Quebec conducted the live animal study   The study by Dr Andre Marette and team was presented at the 7th Scientific Meeting of the International Society of Nutrigenetics and Nutrigenomics,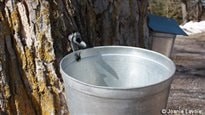 Dr Marette's team compared the glycemic index of maple syrup to that of other sweetening agents,  including brown rice syrup, corn syrup, agave syrup, honey, molasses and benchmark solution (dextrose), on healthy animals.
The maple syrup had a weak glycemic response compared to the other which meant less demand on insulin creation and less chance of pancreatic fatigue.
Pancreatic fatigue speeds up development of type-2 diabetes.  The maple syrup tested as low as agave syrup, but without the highfructose of agave, and the maple syrup was much higher in polyphenols which act as antioxydants.
"Furthermore, several studies2 have shown that long-term consumption of a high-fructose diet can be linked to a build-up of liver triglycerides, glucose intolerance and blood pressure deterioration", added Dr Marette
Maple syrup  has some of the same healthy compounds attributed to berries, green tea, and flax seed.
Furthermore, a recent analysis has also shown that the amount of polyphenols found in maple syrup is approximately five times greater than quantities found in honey, brown rice syrup and corn syrup, and 400 times
greater than in agave syrup. Polyphenols are believed to act as antioxidants
Serge Beaulieu, President of the Federation of Quebec Maple Syrup Producers, is thrilled by the conclusions of this comparative study: "We are optimistic about this research that greatly contributes to our understanding of the potential health benefits of maple syrup."
"Dr. Marette's study confirms the effects of the active components naturally contained in maple syrup among animals. Clearly, there's still some work to be done and we'll continue to support this research every step of the way. In light of current knowledge on this matter, we are able to suggest that consumers seeking a quality sweetener choose maple products, which contain a wide variety of nutritious elements."
As in all things, moderation is recommendation in consumption of the sweet syrup.