The First World War poem, " In Flanders Fields" became one of the most popular poems of the war, and is an iconic Canadian poem to this day.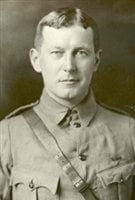 It was written by medical officer John McCrae who had just presided over the battlefield burial of a young friend and former medical student of his.
Enlisting at age 41, McCrae had predicted it would be a terrible war, but the poem even in the face of his loss and the overall tragedy around him calls others to action. McCrae had written it in the back of an ambulance from where he could see fields of poppies..
The story goes that he initially was not impressed with his work especially after it was rejected by the Spectator newspaper.
He later worked on it at a different hospital unit in France where he handed a copy to Nova Scotia nurse Clare Gass.
She had trained at McGill University, where McCrae had also trained. They became friends in those extremely rare moments when they were not dealing with the horribly wounded. Against army rules she would keep a diary.   McCrae handed her the poem for her opinion, she copied it in her diary and told him it was "marvelous".
Again although he wasn't convinced, she advised him to send it to "Punch" the weekly British magazine, very popular among the troops. It was printed in Dec 1915 and became an instant hit.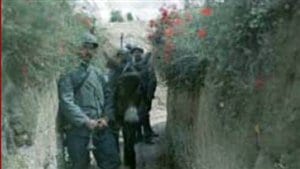 Gass' descendants today think that possibly her words of encouragement spoken on the battlefield may be the reason we have the poem today.
As for Lt Col McCrae, he contracted pneumonia in January 1918, and died within days in France.
In Flanders fields the poppies blow   Between the crosses, row on row,
That mark our place: and in the sky The larks still bravely singing fly
Scarce heard amid the guns below.
We are the dead: Short days ago, We lived, felt dawn, saw sunset glow,
Loved and were loved: and now we lie In Flanders fields!
Take up our quarrel with the foe. To you, from failing hands, we throw
The torch: be yours to hold it high. If ye break faith with us who die,
We shall not sleep, though poppies grow  In Flanders fields
 Composed at the battlefront on May 3, 1915 during the second battle of Ypres, Belgium