A huge mural celebrating diversity in Montreal, in the mostly French-speaking province of Quebec, was defaced this week.
Last summer some 160 local artists worked to create the colourful 80 metre long mural showing a range of cultural and ethnic groups in the community of Point St Charles, a borough in the south-west of the city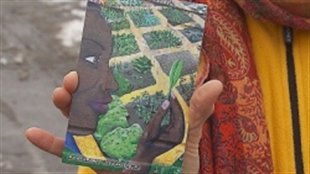 Sometime between Monday night and early Tuesday morning, someone very carefully sprayed white paint over the face and hand of a black woman in the mural, without damaging any other part of the mural.
"Clearly racist, xenophopic"
Marco Silvestro, a member of the collective that organized the mural, said  "It's clearly a racist, xenophobic act," Silvestro said, adding that he was disgusted by the act.  "We're trying to promote solidarity, living together and multiculturalism. So it doesn't make sense like something like this would happen."
The mural on a railway retaining wall took the artists more than three months to create, completing it in September.
Along its length, it shows the area's first aboriginal residents, the factories and industries that have sustained its residents over generations, the trains, some recent elements like community gardens, a young man hugging a giant planet Earth in his lap with the galaxy in the background and children and adults of many colours and ethnicities, playing music, laughing and intermingling.
Silvestro said people respected the mural and it had never been a target of graffiti or vandalism before.
The artists' collective responsible for the mural say they don't believe this is related to the proposed Quebec secularism charter, which has been linked to other racist and ethno-religious incidents in the province recently. They add however, that this incident doesn't help quell the debate.
The artists say they will attempt to restore the painting, although cold weather will make it difficult.
(with files from CBC)