Canadiana Village, and the 55 hectares surrounding it, are for sale for $2.8 million (Cdn) The rolling property is about an hour north of Montreal, near the town of Rawdon.
"There's only 15 per cent of the land that's currently used, the rest of it is beautiful lush forest and mountain tops and whatnot, it's really a beautiful site." says Mary-Catherine Kaija. Sotheby's International's agent.
Listen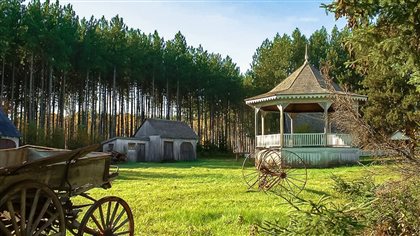 Once a booming tourist attraction, it hosted 35,000 visitors a year. Now it is more popular as a location for movie and TV shoots, or a rustic venue for a celebration.
Originally it was the labour of love created by Earl and Norma Moore. The couple shared a passion for history and during the 1960's and '70's they brought homes and buildings from other parts of Quebec to preserve the past to share it with future generations.
Now with 45 buildings, it comes complete with a general store, a mill, a church, a saloon and even a gazebo. Although some of the structures were built for movie shoots, and there's not much behind the facades, others are authentic ancestral homes transplanted from all over the province.
Many of the people in Rawdon are very attached to the village, several having donated furnishings and fixings to the site.