Andre De Grasse won't be racing against Usain Bolt at the Track and Field World Championships this weekend.
Paul Doyle, De Grasse's agent, said the 22 year-old Canadian sprint star was training on Monday, at London's Mile End Stadium, when he felt a pop in his right hamstring.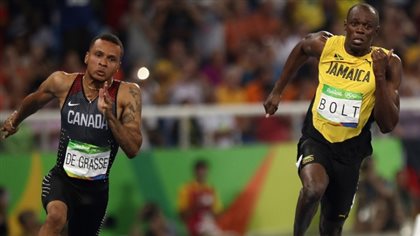 De Grasse received ultrasound treatment on Tuesday in London and flew to Munich Wednesday for further treatment, but the outcome is that he should skip the worlds.
The injury cancels the opportunity to beat Bolt in the Jamaican superstar's final 100-metre race. The championships begin Friday in London.
"After sustaining an injury this week, I'm devastated to let my fans know that I will be unable to compete in London." De Grasse tweeted yesterday.
"Look, if you do this, you literally could ruin your career"
"The entire year this 100-metre race in London was my focus," De Grasse said in a statement today. "I am really in the best shape of my life and was looking forward to competing against the best in the world.
"To not have this opportunity is unimaginable to me but it is the reality I am faced with. I am sad to miss this chance but I am young and will be back and better than ever in the near future."
Anson Henry, a sports analyst with CBC spoke with De Grasse last night after news of the injury was announced. He said De Grasse was determined.
"He was going to try," Henry said. "He did everything he could. He made the trip over to Germany to try to find some other alternative to accelerate the process.
"He understands what he means to Canada. He understands what's expected of him and feels a sense of obligation to perform and people depend on him. He didn't want to let anyone down, but the final advice that he got was, 'Look, if you do this, you literally could ruin your career.'"
Andre De Grasse entered the spotlight at the 2015 Pan Am Games in Toronto, when he won gold in both the 100 and 200. And that same year, at the world championships he took bronze medals in the 100 and 4×100 relay.
But it was his three-medal performance in Rio last year, winning silver in the 200, and bronze in the 100 and 4×100, at the Olympics that made him a star sprinter.
(With files from CP and CBC)