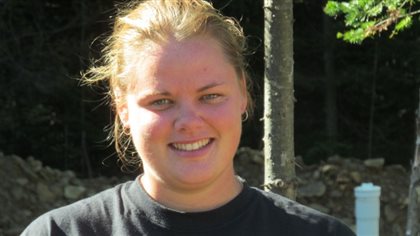 Kelly Bowness is the best lumberjack, or the best woman-lumberjack, since winning the  STIHL Timbersports Pro Women's Canadian championship, in London, Ontario, last week.
 This national competition puts competitors against the clock to complete lumberjack-like activities.
The champ, from Montrose, P.E.I., told Sarah MacMillan of CBC, that she'd come a long way from when she started competing 17 years ago.
She completed an underhand chop, that's cutting through a 12-inch round of wood, in just one minute and 13 seconds in the competition.
"This is as big as it gets right now for women"
"I grew up on a farm but I … didn't really pick up a knack until I joined that team," Bowness told MacMillan.
That was back in 2000, while a student at the Nova Scotia Agricultural College, when a friend suggested she try out for the varsity woodsmen team.
Now it's her passion, and she spends most of her weekends during the summer competing.
"As you get more into it, you buy better gear," said Bowness. "You know, if you have decent, expensive axes and saws, you're going to do quite well regardless."
She said an axe can cost up to $700, and saws up to $2,000.
For now she's enjoying the victory.
"This is as big as it gets right now for women. Of course, women in this sport, we've worked hard to get it to where it is today," said Bowness.
"Maybe in the future there might be a chance to go to higher [competitions], something like the worlds."
(With files from CBC)