Kelly Knight Craft, the first female U.S. Ambassador to Canada, presented her credentials to Governor General Julie Payette in Ottawa today.
"I feel truly amongst friends"
Knight-Craft, who is known as a fund-raiser for the Republican party in the United States, quoted Democratic President, John F. Kennedy, saying "I feel truly amongst friends" during the ceremony.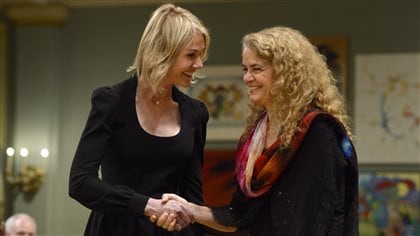 She demonstrated her familiarity with Canada mentioning the recent death of Gord Downie, the much-love charismatic lead singer-songwriter of the Kingston band, The Tragically Hip.
Alex Panetta of The Canadian Press wrote in early August, that "Knight Craft was asked two questions about basketball, and others about Russian election-meddling and NATO in her congressional hearing. She declared that she believed Russia interfered in the U.S. election."
She was also asked about promoting U.S. exports to Canada, and mentioned softwood lumber, dairy and poultry as priority areas, according to Panetta.
Kelly Knight-Craft takes up the position just as these "priority areas" are the source of growing frustration in the challenging re-negotiation process of the NAFTA, the tri-lateral trade partnership between Canada, the United States and Mexico.
"No two countries share a deeper or broader relationship than Canada and the United States," Knight-Craft said today. "We are bound together by history, our values, our economy, our families, our environment and our resolve to improve the lives of our citizens."
Rideau Hall was the setting for five heads of mission presenting their credentials today. Along with Ms. Knight-Craft, the others were:
Adeyinka Olatokunbo Asekun, high commissioner-designate of the Federal Republic of Nigeria.
Mohamed Imed Torjemane, ambassador-designate of the Republic of Tunisia.
Martin Alberto Vizcarra Cornejo, ambassador-designate of the Republic of Peru.
Felix Nicolas Mfula, high commissioner-designate of the Republic of Zambia.
With files from CBC, Macleans and CP