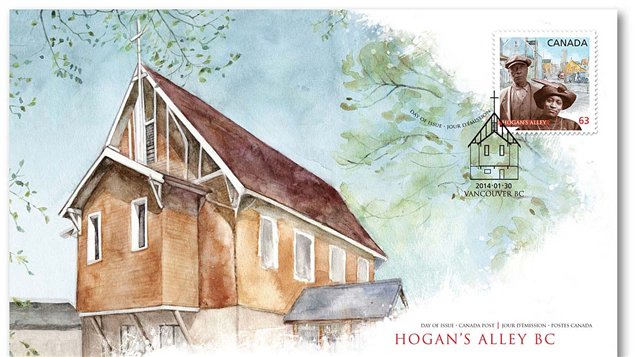 Canada Post has created two more stamps in its ongoing series commemorating February's Black History Month in Canada.
The two stamps represent two of the earliest black communities in Canada, on opposite sides of the country.
A 1958 photo of girls from an Africville bible class is featured on one of the two new stamps to celebrate February's Black History Month in Canada *** CLICK ON PHOTO FOR FULL VIEW
One is about the east coast community known as Africville, a section of Halifax, Nova Scotia.
It combines an actual photo from 1958 of seven little girls of a bible class which is superimposed on a watercolour painting of the community, including Seaview African United Baptist Church.
Both the community and church are long gone, having been razed –with much controversy- in the late 1960.s to make way for a new bridge.  A replica of the church has since been created as part of a provincial apology to the former community along with the creation of the Africville Heritage Trust.
Canadian Zenora Hendrix was Jimi Hendrix' grandmother
The other stamp is of a small, four block long alleyway in Vancouver, on Canada's west coast. It was known as a vibrant destination for food and jazz and was a centre of the city's black community. It was called Hogan's Alley, although the origins of the name are obscure.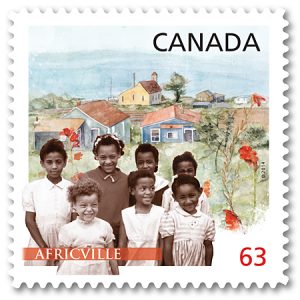 It too was razed in the 1960's to make way for new development.
This stamp also features actual photos of area residents imposed on a background image of the alley. The two people shown are Fielding Spotts, a cooper by trade and the first Baptist in Western Canada, and Nora (Zenora) Hendrix, grandmother to rock legend Jimi Hendrix and cook at Vie's Chicken and Steak House.
This recent issue is the sixth in the annual series which in the past has featured individuals like Montreal jazz legend Oliver Jones, baseball star Fergie Jenkins, and Rosemary Brown, the first black woman elected to a provincial legislature.