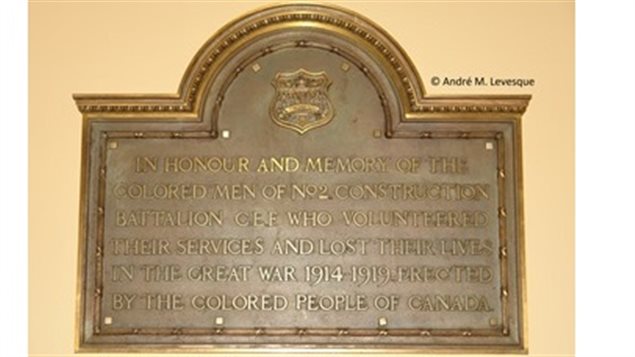 One of the earliest known commemorative plaques honouring black Canadians is that of a tablet erected at the Ontario Legislative Building in Toronto, Ontario, in memory of those who served with the No. 2 Construction Battalion, Canadian Expeditionary Force, during the Great War.
However there had been several black military formations even before that.
Captain Runchey's Company of Coloured Men was one of the first black regiments consisting of both free and indentured blacks and served in the Niagara region in the War of 1812, In 1813, including the major battle at Queenston Heights. In 1813 the "coloured corps" was transformed into the Corps of Provincial Artificers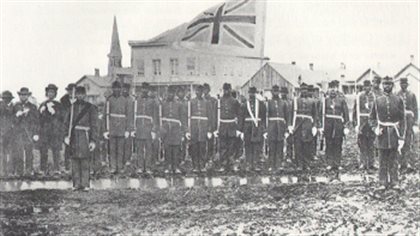 Another short lived black regiment was the Victoria Rifles of 1860-61 in Nova Scotia, whose officer Captain Anderson, eventually resigned in protest of the poor treatment of the unit by local military establishment.
Also in 1860 a similarly named Victoria Pioneer Rifle Company also known as the "African Rifles" was formed in west coast British Columbia. With concern about possible American military intervention over the San Juan Islands, Governer James Douglas accepted the offere of prominent black merchant Mifflin Gibbs to  form a volunteer militia. About 50 men were sworn in in 1861.
However, after several incidents in which the unit was excluded from participation in military ceremonies, the unit disbanded in disgust. Former Captain, R.H. Johnson,  wrote to the Colonist newspaper:
"… their enthusiasm and ardour as far as this colony is concerned have evaporated. This mean and scandalous manner in which they were treated upon the advent of Governor Kennedy is still fresh in their minds. Having as much human nature under their dark skins as others of a paler hue, they cannot readily forget the snubbing they received on that occasion…." –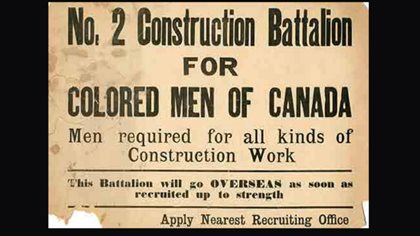 As for the No2 Construction Bn, it was the only black battalion to serve in WWI.
Few blacks were in the army prior to WWI, due primarily to racist attitudes. With the beginning of war however, the black unit was approved in 1916 in Nova Scotia. It departed for Europe in 1917, but was downgraded to a Company and attached to the Canadian Forestry Corps. In France it was primarily occupied in creating timber for various uses by the army. Though few saw actual fighting, some were killed by artillery fire, poison gas, and general construction accidents.
The unit was returned to Canada and disbanded in September 1919.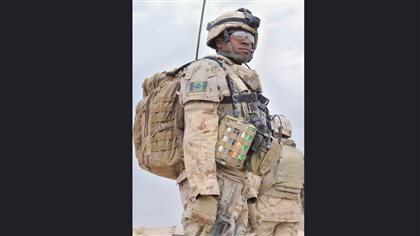 In WW II, unlike the United States, Canada had no segregated units, with blacks fighting and serving in formations alongside their fellow white soldiers, although initially less so in the Navy and Air Force in the early part of the war.
Some discrimination continued post war in recruiting for the Navy and Air Force, however this has long since disappeared  and many blacks serve within distinction and honour throughout the Canadian Forces earning many honours and sharing in the tragic sacrifice, such as brave men like Ainsworth Dyer and Mark Graham who were among the more than 150 Canadian Forces members who have died while serving in the Afghanistan mission.