By Lynn Desjardins, RCI
Viola Desmond's name graces the bow of a new ferry serving eastern Canada in honour of her fight against racism and segregation, reports CBC. In 1946, Desmond went to a movie theatre in New Glasgow, in the eastern province of Nova Scotia, and refused to leave the section reserved for whites. She was dragged away by police and thrown in jail for the night.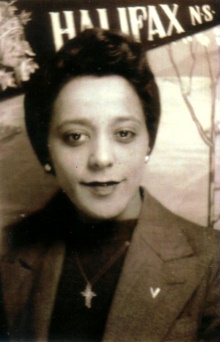 Descended from slaves
Desmond was descended from slaves among the many who fled the United States and settled in Nova Scotia during the 18th and early 19th centuries. There was no official policy of segregation in Canada, but there were unofficial restrictions that made it harder to fight racism. Desmond's actionand subsequent court case was highly publicized and spurred action to end such injustice.
The decision on what to name the new ferry was put to the public. More than 19,000 people voted and Viola Desmond was by far the favourite.
'We must continue on this path'
"Her commitment to civil rights continues to educate and to inspire, highlighting yes, so far we have come, but reminding us that as individuals and as a community, we must continue on this path," community leader Rev. Rhonda Britton told CBC News.
Seeing Viola Desmond's name on the bow of the ferry brought tears to her sister Wanda Robson. "What a day. I can hardly believe it," she said. "I want you to imagine that Viola's grandfather was born a slave to a slave in Richmond, Virginia, you know. It's wonderful to think about all the things that has happened to her and to us as a black population. She has really made a mark."