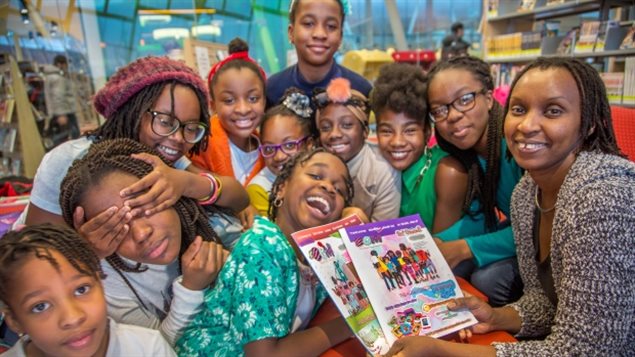 'Black Girls Magazine' was the brainchild of Annette Bazira-Okafor, the mother of two daughters, who realized they were living in a vacuum in Toronto.
The epiphany came during Bazira-Okafor's PhD research at the Ontario Institute for Studies in Education (OISE).
"So you kind of have, as a black mother, to sort of get out of your way and make an extra effort to find something out there that represents who they are." 
During a class on youth and popular culture, she read a sentence regarding black girls, by Professor Craig Watkins, that struck her. He wrote that they "remain indiscernible and underserved" in the media they consume".
"For me, that was a bit of a shocker, not that I wasn't quite aware of that, but it kinda' made me think."
Listen here
Bazira-Okafor is originally from Uganda, and studied in Kenya. When she came to Canada twenty years ago, she found it challenging to break into the media despite her education and experience working in communications.
But seeing the reality through the eyes of her daughters, now ages 13 and 9, she was motivated her to act. It was observing what her eldest daughter was up to, that gave her the initial idea.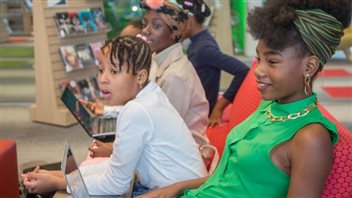 "She and her friends love to play with dress-up apps and make-over apps on the computers and all these cartoons and caricatures and images that are on these apps do not represent them, don't look like them, and I just thought I should find a way to get them to create images that look like them, that represent who they are, so that they can actually get in the process of creating a voice for themselves."
Bazira-Okafor acknowledges the challenge of raising two girls with very little in the way of black dolls or books that reflect their experience. "So you kind of have, as a black mother, to sort of get out of your way and make an extra effort to find something out there that represents who they are" she says.
It was during a sleepover that she suggested to the group that they create something for themselves. Bazira-Okafor says that the response was overwhelmingly positive from the beginning. As long as the girls were hanging out together it was one more thing to do together.
The second edition, again produced and printed at Bazira-Okafor's expense, was a big hit. The Toronto media have picked up the story now and more libraries have been calling for subscriptions. With all the attention, the girls are getting more valuable experience.The first issue, published in June 2016 impressed the girls themselves and began to make waves immediately. At a celebratory gathering, the other mothers expressed their pride and amazement.
"They're realizing what they're doing now is important but I think before, they didn't see it that way." Bazira-Okafor says.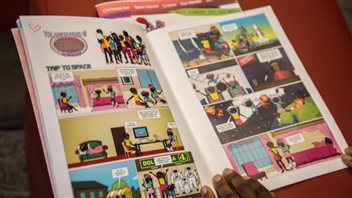 Chisom Agbakwa, is one of the younger contributors. At 9 she is already planning on becoming a lawyer. "When we're making this magazine, it's for us to reach out to other black girls and to inspire other girls," she told CBC reporter, Lakshine Sathiyanathan in Toronto.
Bazira-Okafor would like to see someone come in and sponsor the work and take on some of the expenses, but she knows they have to continue to grow.
"We want a wider readership and then from there, girls writing in and talking about, you know, their stories, their experiences, sending in their art work or whatever, things of interest that they have."
The December issue covered Black History Month, (February in Canada) and included stories about the skating goals of one young writer. The next edition will be out in June.
"If we can get lots of girls from across Canada writing, and giving us their perspective on different things that they love to do, that would be really great." says Bazira-Okafor.