Dena McMartin, a professor at the University of Regina, says people have made lots of jokes about her research, from poop on the roof, to her "crappy" job.
She takes it in stride noting the importance of studying sometimes deadly E Coli bacteria. She notes the findings could have important implications in food storage and handling, farming, and water processing.  In May of 2000, seven people died and dozens of others were seriously ill after E Coli from farm runoff entered the municipal water supply in the small town of  Walkerton Ontario.  Last year and E Coli outbreak at a huge meat processing plant in Alberta triggered Canada's largest meat recall ever.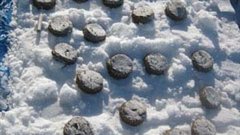 Professor McMartin's research involves taking cow manure from farms and studying its survivability in the winter in different conditions.
The research involves taking some of the manure and placing it on the roof of a university building, and also making observations on manure in farmers fields.   She says Saskatchewan has an extreme climate and if the E Coli can survive there, it can survive almost anywhere.
She notes that if the temperature drops to -15, the samples of manure on the roof show no evidence of E Coli.  However, in the same climate, the bacteria in the field samples was dormant in the cold, but returned to life when temperatures warmed.
Not only that, but the bacteria returned in substantial numbers and it gets in the spring melt water and can be found at great distances from farms
Dena McMartin says they've shown E Coli is a very stubborn bacteria that can survive freezing. They're not sure however why it returns in such big numbers in the spring melt water.
The project lead is Dr. Barbara Cade-Menun who is a scientist at SPARC, the Semi-arid Prairie Agriculture Research Centre, based in Swift Current.