On May 28, 1934, news spread across Canada, then indeed around the world of an amazing birth.  Just outside a tiny northern Ontario village, Corbeil, Elzire Dionne gave birth to five baby girls.  This was the world's first case of surviving quintuplets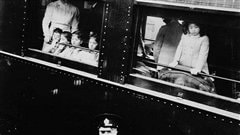 Born two months prematurely, it was uncertain that any or all would survive.  Dr Allan Roy Dafoe is credited with the successful birth and survival.
Elzire and husband Oliva already had five children when the quints arrived, and word spread quickly about their poverty.  When the parents were persuaded by the Chicago World's fair to put the babies on display, the Ontario government intervened and declared the parents unfit.
The children were made wards of the provincial Crown until they reached age 18, and were placed under the guardianship of Dr Dafoe.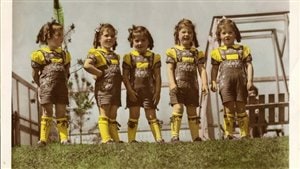 A nursery complex was built across the road from the Dionne house, with a nine room nursery and complete living quarters for housemaid and two caregivers, while another building provided living quarters for the three full time nurses and three policemen.
Under Dafoe's supervision, the complex became a virtual theme park called Quintland, and the quints, a huge commercial enterprise. Indeed, in those early years the Dionnes and Quintland were an even bigger tourist draw for Ontario than Niagara Falls
Visitors to Quintland came at a rate of several thousand a day, eventually millions of people came to see the girls at play in a closed in playground on site, or watched them through one way glass.
Dafoe himself became a celebrity while also selling thousands of product endorsements from corn syrup, to soap, to Quaker Oats.
In terms of tourist dollars alone, its estimated that Quintland brought in over $50-million to the Ontario provincial coffers in 1934 alone.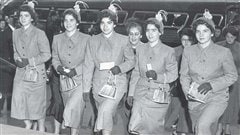 Hollywood stars came to visit, including, Clark Gable, Mae West, James Stewart, Jimmy Cagney, Bette Davis, and just weeks prior to her ill-fated flight in 1937, Amelia Earhart.
Oliva Dionne meanwhile fought a nine year battle to regain custody of his children, who were returned in 1943.   However, as they had lived a rather coddled and regimented lifestyle, the return was not a harmonious one.  They left home upon turning 18.
The quints have been the subject of numerous films, documentaries, TV series, books, and magazine articles.
In 1998 the three surviving sisters were awarded nearly three million dollars by the province of Ontario in compensation for the government's actions when they were children. Only Annette and Cecile survive, living near Montreal.
 Million Dollar Babies- trailer