Listen
A team will travel to a remote part of Canada's Arctic next month to learn more about the first major scientific expedition to the area which took place from 1913 to 1918.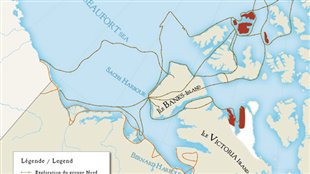 The Canadian Arctic Expedition was a two-pronged effort to gather scientific information about the area and to search for new lands. It was believed there might be an unknown continent in the middle of the Arctic Ocean.
Information about the wildlife and vegetation that was gathered then is still used as a baseline for scientists today. The early expedition also put four new islands on the map which saved Canada from some wrangling over sovereignty.
Strongly supported by the government of the day the expedition lost 11 men and its flagship at the outset. Six others died over the next five years. In all, about 150 people spent varying amounts of time on the expedition.
Now, a century later, Canadian researcher and historian David Gray is mounting a small expedition to retrace part of the early trek and to gather scientific information and artifacts from the various camps that were set up along the route.
Gray also hopes to find out what happened to lost sailor Peter Bernard who had been an important part of the early expedition but who died in 1917 somewhere in the north west of Banks Island.
"No one has ever been back to document these base camps and exploration camps that were left behind a hundred years ago," said Gray. So he will set off with two other researchers and the captain of a sailboat for Sachs Harbour near the headquarters of the original base camp. Local people will act as guides and wildlife monitors.
The first forays will be on foot and later a motorized sailboat will take the team up the coast to visit up to ten of the old sites.
Ice a danger then and now
"The challenges are very similar to what the men of the expedition faced in 1913," said Gray. "We're looking at ice along the coast of Alaska and northern Canada."
In spite of global warming and the fact that ice is melting leaving a summer opening in the Northwest Passage, "I'm still worried about ice. I looked at the ice charts that were just posted today and I'm thinking 'Hmm, there's still ice along that coast and we have to get a sailboat through there within a month.'"
Time and weather are the other challenges. It can snow and ice begins to reform late in August leaving only a small window of time for the expedition to do its work.
"I'm really excited," said Gray. "I've wanted to do this for many, many years. I first started researching the Canadian Arctic Expedition in 1973." While he has been to some of the sites associated with it, this this time he will access more sites as yet unexplored.
"Having this opportunity to go by boat up to sites…(where)… I know there is interesting material… that nobody has ever looked at is just very exciting."