The rain storm moved in suddenly right at evening rush hour in Toronto, Canada's biggest city.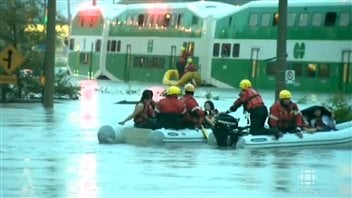 Within a couple of hours far greater amounts of rain had fallen than would occur typically over the entire month. Toronto's storm sewers were simply overwhlemed.
Some 126 mm of rain fell in a torrent within 90 minutes compared to a typical July rainfall over the month of 74 mm.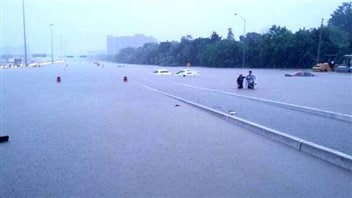 Major highways, rail lines, streetcars (trams), and subways were all flooded.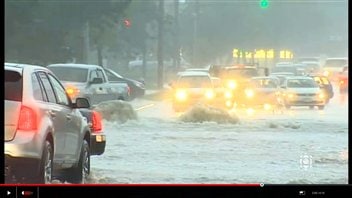 The evening commute, hectic and jammed at the best of times, came to a virtual standstill as many drivers and public transit riders had to be rescued by small boats from various vehicles and locations.
The ground around many trees, softened by the rain, gave way and trees toppled onto power lines causing a number of blackouts throughout the city. Of the approximately 300,000 customers without power during the storm, about 35,000 were still without power this morning.
As there are still several road closures, many people have been advised or have decided on their own that an attempt to commute into the city would be futile.
Fortunately there are no reports of injuries or deaths. In comparison the deadly Hurricane Hazel of 1954 that swept through the area after devasting Haiti and parts of the US, killed 81 people mostly in the Toronto area. During that  storm, only 121 mm of rain was dumped