A 4.3 metre long African rock python appears to have escaped from its enclosure in eastern Canada and killed two little boys sleeping in their sleep. The owner of the exotic pet store, Jean-Claude Savoie, told a TV station he can't believe the snake got out of the enclosure, travelled through the ventilation and suffocated the boys. Police later said it appears the ventilation pipe broke in the ceiling above the boys and the snake fell through.
Noah Barthe,4, and Connor Barthe, 6, were the children of Savoie's best friend and were often at the apartment to visit his own son in Campbellton, New Brunswick. The two families had spent the day together shopping and visiting the Savoie family farm.
Savoie told Global News he didn't hear a sound during the incident and only discovered the "horrific scene" when he went to check on the boys on Monday morning. Savoie said he saw the snake, pinned it down and put the reptile in a cage. The python has since been put down by a veterinarian.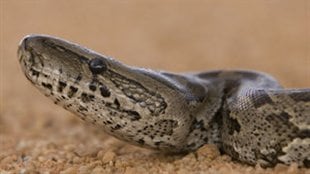 Autopsies on the boys bodies were done Tuesday, but results are not yet available.
The deaths have sparked discussions about whether there is enough control over dangerous pets like snakes in Canada. Rules are set by provinces or municipalities and vary across the country.
The U.S. state of Florida is struggling with a burgeoning problem of pet snakes that have been let go and are reproducing in the wild, sometimes attacking small domestic animals and, in some cases, people.
Cold winters in Canada would preclude the survival of tropical snakes outdoors.