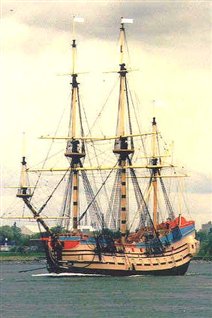 For those who think Canadian history is boring, a Canadian expedition heading to Hudson Bay on Monday hopes to change that.
The group will be seeking the remains of two large warships destroyed during a deadly sea battle in the frigid northern waters over 300 years ago.
Manitoba technology consultant Johann Straumfjord Sigurdson, along with David Collette,  is co-leader of the Fara Heim Foundation expedition which is sanctioned by the internationally renowned Explorers Club.
I reached Mr Sigurdson at his home.
Listen
The famous northern battle pitted long-time rivals England and France against each other during the struggle for control of the vital fur trade in North America.
It was a terrific sea battle followed by an overland attack and certainly worthy of any Hollywood blockbuster.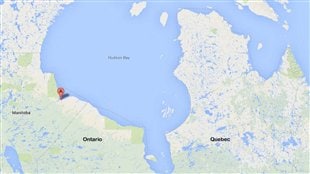 In 1687 Montreal-born  Charles LeMoyne D"Iberville led a small fleet from New France (now Quebec) into Hudson Bay to capture the important trading post of York Factory.  Aboard his warship the Pelican, he became separated from the others and sailed alone toward the fort.
However a British man-O'war , the Hampshire, and two other armed ships found him and the battle was on. The majestic square rigged ships blaste away at each other. Cannon ball and musket shot rip through the air tearing bodies, sails and wooden hulls to pieces. There are massive clouds of acrid smoke, fire, wood splinters, shouts screams, blood and explosions.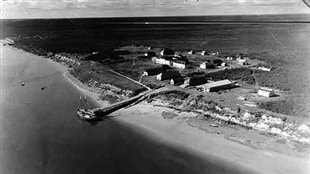 The Hampshire suddenly blows apart with huge loss of life after a lucky shot to its magazine, the French ship, Pelican,  broken and sinking limps to shore where the remains of the crew face a bitter winter storm the next day, Finally the French fleet with reinforcements arrive and they move off to capture the fort which was their objective.
This major victory gives the French control over western Canada and the lucrative fur trade for the nest 16 years.
Although a deadly and violent battle with ships and hundreds of lives lost, and a historically important outcome, most Canadians have never heard of it.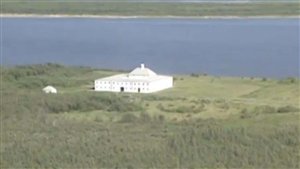 The Fara Heim team leaves next week to the north to try to locate and document the remains of the two ships.  It is likely that little to nothing of the wood remains of the ships, but they hope that a documentary of the trip and possibly locating their final position, it will raise the profile of the historic event.  They also hope to create material for classroom study of an important event in Canadian history.
The expedition is being helped by Globalstar satellite phones, but private donations are also being accepted in a "kickstarter" campaign
Fara Heim Foundation