The (HMS) Bounty, one of the world's few remaining tall ships was lost in Hurricane Sandy on October 29 in 2012.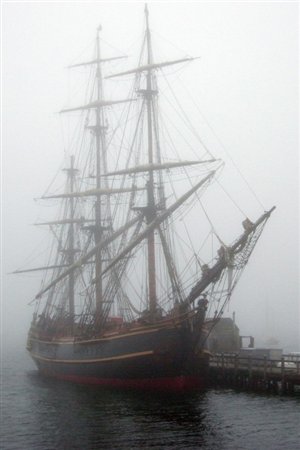 As the ship foundered in heavy seas and winds up to 160km/h about 200 kilometres off the coast of North Carolina, fourteen of the crew made it to life-rafts and were rescued by helicopter.
However, Captain Robin Walbridge aged 63, and deckhand Claudene Christian aged 42, were swept overboard and drowned. Walbridge's body was never found.
"Reckless decision, inexperienced crew, ageing leaking ship" (NTSB report)
Now a US National Transportation Safety Board (NTSB) report into the loss, has severely criticized the captain and the company responsible for the ship.
The  NTSB report says the captain's decision to sail into the "well forecast path of the hurricane" was reckless and that the company did nothing to dissuade the captain from sailing into known severe conditions.
The report noted that the crew was relatively inexperienced and some sealing repairs to the hull were carried out by the inexperienced crew using materials designed for household kitchens and bathrooms.
The captain is noted to have said earlier that the Bounty "chased hurricanes" and could use the winds to its advantage.
The report says he may have focused too narrowly on the eye of the storm and not on its vast area which spanned more than 1,600 kilometers in diameter.
The report also noted that the ageing ship was known to be constantly taking on water even in good conditions, and that prior to sailing into known rough seas the captain did not ensure that all pumps were working.
The NTSB report concludes that the "sinking of tall ship Bounty was the captain's reckless decision to sail the vessel into the well-forecasted  path of Hurricane Sandy, which subjected the aging vessel and the inexperienced crew to conditions from which the vessel could not recover. Contributing to the sinking was the lack of effective safety oversight by the vessel organization."