It's an annual two-week period of madness and supreme skill, exhaustion, danger, thrills, and camaraderie.
It's the supreme challenge of man and machine versus anything nature and geography can throw against them.
It's the Dakar Rally and Canadian David Mills has just written a behind the scenes look at the biggest and most widely known rally in the world.
He joined a Chilean team in 2012 for an inside look and the result is his book which is called "Zero to Sixty- A Dakar Adventure"
Author David Mills now divides his time between Canada and Chile, where I reached him by phone.
Listen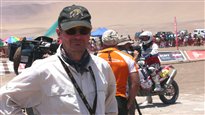 It is arguably the most famous and most covered single automotive race in the world.  In dozens of countries around the world, tens of millions of TV viewers and magazine and newspaper readers follow the "Dakar" every year.
It features hundreds of specially prepared  vehicles ranging from motorcycles, to an incredible variety of four-wheeled vehicles, to heavy trucks all tearing across often barely defined  tracks through the landscape of deserts, mountains, heat, cold, mud, and more.
Originally staged from Paris to Dakar Senegal, it was moved to South America from 2009 onward due to terrorist threats in Africa.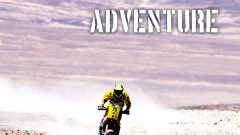 Whether for the millionaire sponsored teams, or the many individual "privateers", it is both adventure and ordeal, and for most, the motivation is simply the personal satisfaction of having participated and actually completed the race.
It's over 8,000 kilometres  from start to finish divided into 13 stages, each several hundred kilometers long. in 2014, some 431 vehicles started, but only 204 finished.
There is massive action behind the scenes as well with hundreds more mechanics, support vehicles, food trucks, resupply vehicles, officials and monitors, TV camera crews, helicopters, medical staff. David Mills talks about all this as well in his book, a fascinating story of a truly epic event.