On May 8, the Germans had surrendered all forces to end the Second World War, but for U-boats on patrol several days from home, the message to surrender required them to surface, show lights, and transmit their position on clear channels while proceeding to the nearest Allied port. Two of the submarines were patrolling the shipping lanes near Canada.
On May 12,  U-190 surfaced and surrendered to the Canadian navy, and U-889 a day later.
U-190 was accompanied to Newfoundland, still a colony of Britain at the time and later to Halifax Nova Scotia, while U-889 was accompanied to Nova Scotia.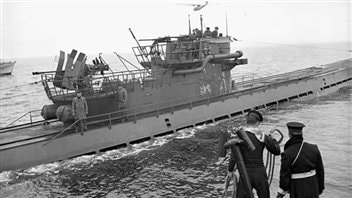 The capture of U-190 was bittersweet as it had sunk a freighter earlier,  and HMCS Esquimalt, a Canadian navy Bangor class minesweeper in April, with 44 dead and 26 survivors.
Both U-boats were then signed into the Royal Canadian navy, where they underwent testing and training of Canadian naval personnel.
 (Note: interestingly, German sailors had used a Canadian-built WW-I submarine as a training vessel in the early years of the war. It had been in the Royal navy, and eventually sold to the Dutch in 1917. Discovered scuttled but intact by German forces occupying the Netherlands, she was raised, refitted and used for training until 1943, when scuttled by the Germans.)
U-190 was paid off in October 1947, and then sailed to the site of the Esquimalt sinking, where it was sunk by shells and bombs from a Canadian naval ship and aircraft
U-889 had only one operational patrol with no ships sunk when it surrendered to Canadians near Nova Scotia. It was turned over to the US in January of 1946, and sunk by a US submarine in November 1947