The arrival of summer means the start of forest fire season in Canada.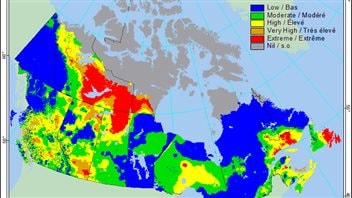 This year while southern regions of the prairie provinces were deluged with rain, far to the north in the Northwest territories it's been dry and hot, having had no real rain moisture since the snow melted in the spring.
So far it's been one of the worst fire seasons on record. The Canadian Interagency Forest Fire Centre (CIFFC) lists 130 fires logged in the territory so far, with over 90 still burning.
"We're going through a period of extreme burning conditions across most of the southern N.W.T.," says Bill Mawdsley, director of forest management with the Department of Environment in Fort Smith. "We're observing extreme drought. Everything right from the mineral soil right to the top of the trees is burning."
He says more lightning is expected over the weekend, and thus the situation will likely get worse in the coming days.
The CIFFC lists at total of over 2000 active and extinguished forest fires across Canada to date with some 468,000 hectares burned.
 Canadian Interagency Forest Fire Centre  Wildfire facts

Approximately 8,000 wildfires occur each year in Canada.

The average area burned in Canada is 2.5 million ha/year.

Fires caused by lightning represent 45% of all fires, but because they occur in remote locations and often in clusters, they represent 81% of total area burned.

Human-caused fires represent 55% of all fires. They occur in more populated areas and are usually reported and extinguished quickly.