This week your hosts are Lynn Desjardins, and Marc Montgomery, with a contribution on the show this week from Carmel Kilkenny sitting in for Wojtek.
HERE
The recent deliberately targetted killings of two Canadian soldiers in separate incidents has resulted in much grief in Canada.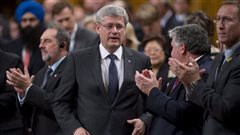 Even before those killings however, the federal Conservative government had been planning a law which would give security and intelligence agencies more power.
The killings of the soldiers in what some have described as terrorist attacks, has served to strengthen the government's position that it needs more and stronger laws.
However, several groups say these new measures would dangerously infringe on Canadians civil lieberties.
Lynn spoke to Sukanya Pillay, a director and lawyer with the Canadian Civil Liberties Association
This week, an archaeological mystery solved after almost 50 years.  It involves dinosaur forelimbs, but no body, which led to speculation that the rest of the creature may have been enormous.
Now, after following a trail somewhat akin to an episode from Indiana Jones, a team led by Canadian dinosaur expert Philip Currie located the "lost" quarry using an old hand drawn map, found another, then a third specimen.
Then through connections found more bones which had been poached…all to be able to eventually piece together a full skeleton of what has turned out to be a large and very strange dinosaur that lived about 70 million years ago in Mongolia.
Marc contacted University of Alberta professor Currie and we present an edited version of their conversation.
The full version is in the highlights section.
This week Carmel filled in for Wojtek.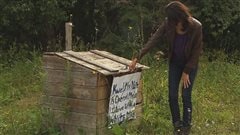 She looked at a story concerning a First Nations Mohawk community near Montreal Quebec.
The reserve had passed a resolution years ago, preventing non-natives from living in the community.
Now the community of Kahnawake says it is about to start enforcing the rule and will send out eviction notices to non-natives. This could mean the break-up, or some hard decisions by couples who have married non-natives.
Carmel spoke to Joe Delaronde, spokesman for the Mohawk Council of Kahnawake