One month after people cleaned hate graffiti off a mosque in western Canada, Muslims members formally thanked them with prayers and a special forum.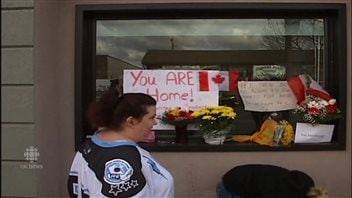 "Go home" was one of the slogans that were painted on the mosque in Cold Lake, Alberta in October after a Muslim convert killed a member of the armed forces and attacked Parliament in Ottawa.
Hours after the mosque was defaced, dozens of people came out to clean it and to post messages of welcome and inclusion.
To show their thanks, mosque members invited community members to attend a special service on Sunday and hosted a larger discussion about "the true teachings of Islam."