It is 1,800 square kilometres of rugged, awe-inspiring natural beauty. Canada's Gros Morne National Park on the west coast of the Atlantic island province of Newfoundland and Labrador is so inspiring that in 1987 the United Nations declared it a world Heritage site.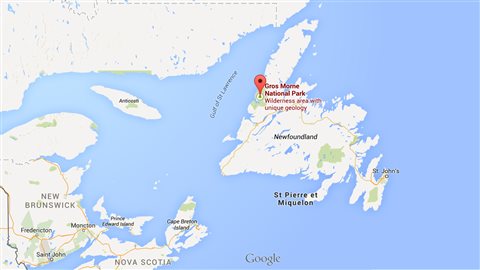 A letter  (see below) signed by 32 prominent Canadian artists and celebrities has been sent to Prime Minister Stephen Harper, provincial Premier Paul Davis, and copied to the United Nations Organization for Education, Science and Culture UNESCO.
The open letter dated January 5th, and made public today, urges a wide buffer zone around the park to prevent industrialization near the park.
The signatures include those of Canada's first woman in space, astronaut Roberta Bondar, award winning author Joseph Boyden, musician Tim Baker of Hey Rosetta, folk musician Valdy, actor Greg Malone of "Codco" comedy troupe, and author, comedian, Andy Jones,
In spite of its somewhat remote location, the hiking trails annually attract thousands of visitors who marvel at the forests, and breathtaking clifftop views down glacier cut fjiords, and other geological wonders such as the Tablelands  which have helped scientists understand how the Earth's outer crust has shifted over millions of years.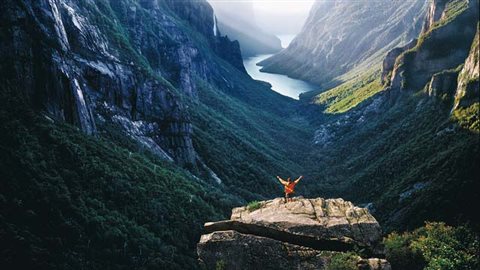 In early 2013, a resource exploration company applied for permission to drill exploratory fracking wells just outside the park boundaries.
It is thought that the area has substantial reserves of oil in the area in a deep formation called the "Green Point Shale".
That proposal created a great deal of concern for residents near the park, and for environmentalists world-wide due to fracking's potential to contaminate ground water and create surface  disruption with wastes from the operation.
UNESCO has said that fracking near the park could result in revocation of it's world heritage status.
In November the provincial government announced a temporary halt to any potential fracking operations while it studied possible effects from the drilling.
The fracking industry,  such as the Newfoundland and Labrador Oil and Gas Industries Association,  says thousands of wells have been fracked in western Canada without environmental damage.
Eric Hebert-Daly, is the executive director of the watchdog group Canadian Parks and Wilderness Society, and helped co-ordinate the open letter as part of a broader campaign for a Gros Morne buffer.
Quoted in the Globe and Mail newspaper today he said, "This seems like a no-brainer. We really just need to find the time and the effort on the part of both governments to find the solution to what that buffer zone needs to look like, and get on with it," then adding, "Encroaching on the very few areas we have preserved as outstanding examples of the natural world is just, in my view, unacceptable greed, we don't need to do that."
OPEN LETTER
Honourable Paul Davis                                                                                                  Premier, Newfoundland and Labrador                                                                           Confederation Building, East Block                                                                                          St. John's, NL A1B 4J6
Right Honourable Stephen Harper                                                                                           Prime Minister of Canada                                                                                                           80 Wellington Street Ottawa, ON K1A 0A2
January 5, 2015
Re: Protecting Gros Morne National Park from industrialization
Dear Premier and Prime Minister:
We have had the privilege of visiting Gros Morne National Park and World Heritage Site and were captivated by its spectacular natural beauty, its welcoming communities, and its vibrant culture. Gros Morne National Park is one of the national treasures that make us proud to beCanadians.
We were shocked, therefore, to learn about a proposal in 2013 to conduct oil drilling and hydraulic fracturing (fracking) activities next to the park, considering the threat that this would pose to its ecosystems, its pristine natural beauty, and the thriving local tourism economy.  We were pleased to hear that this threat has been temporarily reduced, with the declaration of a moratorium on fracking in Newfoundland and Labrador, and the petroleum exploration licence off Gros Morne not being renewed. However, these temporary measures will not prevent similar harmful industrial proposals in the future.
During this pause, we urge you to move quickly to create a protective buffer zone around this remarkable national park, a zone that will be kept permanently free from industrialization.
Gros Morne National Park is a magical place. It has captured our hearts, as it has those of hundreds of thousands of visitors from across Canada and around the world. Surely this is why Gros Morne is the cornerstone of the Newfoundland and Labrador tourism industry.
By nominating Gros Morne National Park as a UNESCO World Heritage Site, Canada promised to protect this location's outstanding universal values on behalf of the entire world community.
Other World Heritage Sites, including several in Canada, already have buffer zones in place to  provide them with added protection. 
Please follow this lead and act quickly to establish a buffer zone around Gros Morne National Park. We believe that all Canadians will thank you for your foresight in protecting one of our greatest natural treasures.
Sincerely,
Tim Baker, musician, Hey Rosetta
Barbara Bellows, artist
Anita Best, folklorist, singer
Dr. Roberta Bondar, astronaut
Sandy Bourque, producer
Amanda Boyden, writer
Joseph Boyden, writer
Michael Crummey, writer
Dr. Wade Davis, anthropologist-National Geographic Explorer-in-Residence
Stan Dragland, writer and editor
Barry Flatman, actor
Camilla Gibb, writer
Alison Gzowski, writer, editor, producer
Lawrence Hill, writer
Miranda Hill, writer
Holly Hogan, singer
Valdemar (Valdy) Horsdal, folk musician
Andy Jones, actor
Ruth Lawrence, actor, director and producer
Tim MacDonald, business person, co-founder Arctic Research Foundation
Kevin Major, writer
Greg Malone, actor, comedian, writer
Lisa Moore, writer
Mary Pratt, artist
Shelagh Rogers, broadcast journalist
Gerry Squires, artist
Ania Szado, writer
Gayle Tapper, musician
Des Walsh, writer, poet
Claire Wilkshire, writer, editor
Kathleen Winter, writer
Michael Winter, writer
cc. UNESCO World Heritage Committee