Camping is one of the quintessentially 'Canadian' experiences.  Blessed with hundreds of thousands of miles of wilderness and varied landscapes, many people enjoy their summer vacation in camp sites in the provincial and national parks across the country.
In many places now, however, camping is evolving into glamping, or so-called 'glamorous camping'. To glamp, one must be under roofed accommodation, such as a yurt or a cabin.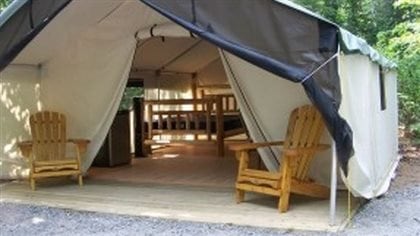 Ontario Parks has been increasing its glamping facilities in response to the growing demand.
Spokesperson Anne Craig told CBC News that some of it was motivated by responding to "people who think camping is really intimidating".  She said, 'We really need to hold their hands a little bit the first time around, but once they get into a park and see how easy it is, they'll hopefully come back as lifelong users."
Northeastern Ontario provides several glamping opportunities. Windy Lake, Pancake Bay and Killarney provincial park all have glamping accomodation available.
These new roofed set-ups are also a big draw for seniors who may not be as comfortable getting up and down off the ground, or to people who don't want to invest in camping equipment, and those who want to camp in cooler temperatures.
"The roofed accommodation appeals to a whole new group of people. We certainly know that new Canadians don't necessarily have a tradition of camping, so they're coming into these comfy accommodations. It's broadening out our appeal," Craig said.
In 2014 more than 8.5 million people from around the world visited Ontario's 330 provincial parks.