Power walking coach and endurance athlete, Donna Foster-Larocque  is accompanying her friend Mario Rigby for stretches of a major 'power walk' from Toronto to Montreal.
Foster-Laroque suggested the journey to Rigby in preparation for his upcoming quest to cross the continent of Africa from Capetown to Cairo, by foot, sail and paddle only.
Walking from the CN Tower in Toronto to the summit of Mount Royal in Montreal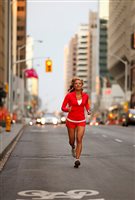 In an interview with CBC's Andie Bennett, Foster-Larocque explained the journey.
"We're trying to mimic exactly what his walk is going to be so that means a back-pack, carrying all of our fuel, the sleeping bag, the tents, our little stove burners, the lamps, the thermal clothing, everything that we can think of that will be on the walk we'll do together so that he'll have more experience when he does the trek across Africa."
Mario Rigby, a Toronto-based personal trainer and former professional track and field athlete, is setting out on the two-year journey on November 24, 2015.
He says he is doing it to test his limits and connect with his heritage. The sometime model was born in Turks and Caicos, and has plans to document the Africa crossing in several media.
As for the current quest, Rigby arrived in Kingston, Ontario, last night, sharing his fatigue on Twitter. Just beyond the half-way point now, Rigby is expected to arrive atop Mount Royal in Montreal on November 13th or 14th.
The 500 kilometre trip from Toronto to Montreal is one many Canadians are familiar with, but only from the point of view of a vehicle. It may be ideal for Mario Rigby as he gets physically and psychologically ready to embark on the 10,000 kilometre trek across Africa.