Norman Shewaybick, accompanied by his two sons, walked 17 days in what they call the "Healing Journey Home 2016". It was in fulfillment of a promise Shewaybick made to his wife, Laura who died when the oxygen supply ran out at the nursing station in their home community.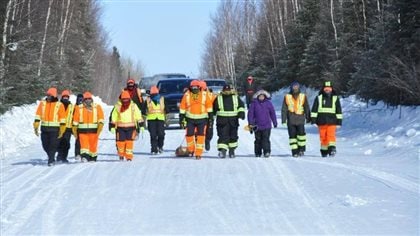 Beginning in mid-February, the trio walked north from Thunder Bay, Ontario, dragging a toboggan with an oxygen tank on it, A tank Norman Shewaybick says would have saved his wife's life.
"My promise is done. I promised her I would bring it back,"
The trek ended today when Shewaybick reached home in Webequie First Nation, falling to his knees in tears, welcomed by family and friends.
He said he made a promise to her that he would make sure no one else suffered in the same way.
"It was my 26th wedding anniversary and that's what Health Canada gave me for an anniversary present — a dead wife," Shewaybick said, according to the CBC's Jody Porter.
He placed the oxygen tank before a Health Canada representative at a community gathering to honour the end of the walk. 
Keith Conn, the regional director of the First Nations and Inuit Health Branch of Health Canada said, "We are now instituting a whole review of our nursing stations in Ontario,"
The walk has already garnered results with Health Canada promising an oxygen concentrator for every community in Northern Ontario's remote villages.
"It's a small step, it's only the beginning, there needs to be a lot more work around health and wellness," Conn said during the meeting.
Canada's auditor general, in a report last year, made clear that Health Canada has no way of assessing if nursing stations meet the needs of the First Nations communities they serve.
Other people at the meeting shared their experiences, listing relatives they felt died after being ignored or neglected by the health care system.
Norman Shewaybick said he was pleased to see his journey is yielding results and ending the silence concerning the healthcare system for First Nations.
"The way it's set up right now, it's killing our people." he said. "Our people are dying."