Roger Payot of Regina. Saskatchewan, took advantage of the snow and cold weather last week to build a snowman. 'Smiley' and weighs close to 1,000 pounds.
Payot is just following his father's example, and employing his father's methods, using bottomless cardboard boxes filled with snow.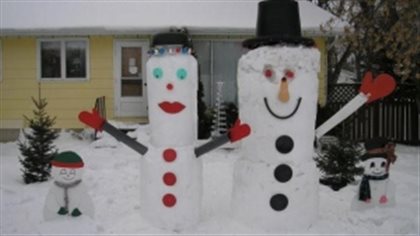 He leaves the boxes to set individually overnight then stacks them one on top of the other, forming a pillar. With a pocketknife, Payot created Smiley's head, carving away the excess snow to reveal the snowman inside.
Payot said his father used to build the snowmen about 10 years ago at his home in Whitewood, Saskatchewan, about 140 kilometres east of Regina.
"He didn't carve them afterwards, he just left them as a column and put the decorations that he had made out of various things around the yard," he said.
With a lot of help from his children, Roger Payot gave his snowman a smile of Styrofoam spheres, and recycled a cereal box to look like the carrot nose.
The Payot family built Smiley during the cold days of the deep freeze in central Saskatchewan last week. They're not sure he'll survive this week's warm spell.
But Payot now has plans for another holiday reation to brighten his street. "I think I might build an evergreen next year, a Christmas tree," he said.