Jean-Paul Riopelle, the late Quebec artist, is very popular with theives. Now three of his abstract paintings, that were stolen in 1999, have been retrieved.
Worth a combined value of about $150,000 (Cdn) the works were found at a private residence, the result of a tip to police.
According to Sgt. Claude Denis, a Sûreté du Québec spokesman, the paintings were stolen from an airport warehouse where they were being stored. So far no arrests have been made.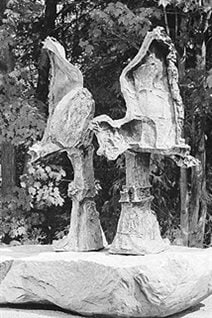 "It's part of any collector's duty to make sure they aren't buying a stolen work of art."
Paul Maréchal, curator of the art collection at the Power Corporation, compared Riopelle's work to that of Jackson Pollock and Mark Rothko.
Maréchal said Riopelle "was the only artist who could sell his works in London, Paris, New York galleries, Milan and Germany."
Maréchal told CBC Montreal's radio program Daybreak, that it is possible, though unlikely, the person who had the paintings last came by the collection honestly.
"When you acquire a painting, you always have to do a little research, as a buyer, to make sure that the provenance, the previous collections the paintings were in are legit, and the chain of provenance is good," he said.
"It's part of any collector's duty to make sure they aren't buying a stolen work of art."
Stolen before
Lithographs by Riopelle, stolen in Montreal between 1999 and 2004, were discovered for sale on the Kijiji web site in 2010,
In 2011, two statues created in 1963 were taken from Riopelle's workshop in the countryside just north of Montreal. They were later found nearby, broken in two pieces. The statues, weighing nearly 450 kilograms, were worth about $1 million.
Then in May 2014, a painting worth $225,000 was stolen from a Toronto art gallery and eventually found in a Montreal home.