New Brunswick said good-bye to some of the 308 teams of hydro workers who came from neighbouring provinces and the U.S. state of Maine, to help get the power restored to over 130,000 customers.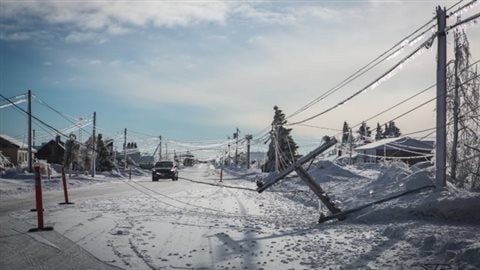 The situation was the worst in the province's ice-coated Acadian peninsula.
Now, 12 days after the ice storm hit, the area is entirely re-connected to the grid, after workers braved temperatures of -27 on Sunday morning to accomplish the feat.
NB Power said progress for reconnecting the remaining customer's electricity will depend on weather and working conditions, according to a press release yesterday.
There are exceptions to getting everyone reconnected which include customers with complex issues, such as damage to electrical entrances, or very rural or remote seasonal properties.
But they're working in earnest in advance of more bad weather. Environment Canada is forecasting snow, ice pellets, freezing rain and rain for the province Wednesday. 
In its release, the utility said it wanted to thank customers, municipal and provincial leaders and hundreds of volunteers who supported restoration efforts through the extreme weather event.
"We deeply appreciate the extraordinary patience and support customers showed our crews and employees as we worked around the clock to bring customers back online since the storm," it said.