Avalanche Canada has been warning people in British Columbia about the dangerous conditions, and early this morning an avalanche buried a section of the Trans Canada Highway in Southeastern British Columbia.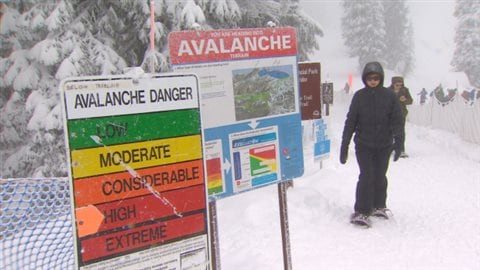 The fire chief in Field, B.C., said one tractor-trailer was involved in the slide, but that was because the driver had tried to get past the avalanche.
The driver was not injured.
The risk is "considerable" across large areas of the mountainous province.
On the South Coast, conditions are said to be "very touchy" and human-triggered avalanches are "likely."
The avalanche closed the highway just inside the British Columbia boundary in Yoho National Park, west of Lake Louise, Alta.
A B.C. Transportation Ministry advisory said both directions of the highway were closed, from Field to the boundary with Alberta, approximately 170 kilometres.
The fire chief said more avalanche control is necessary along the highway, before the route can reopen.
Avalanche Canada has rated the danger in the area as considerable, because of recent snowstorms and said more snow and wind expected in the next few days will compound the problem.
British Columbians venturing into the mountains this weekend are being asked to use common sense as slide warnings are in place across much of the province.