Tiny houses are becoming increasingly common in Canada. From the far north, where the cost of materials and construction is prohibitive, to the big cities where real estate prices have soared over the last ten years, tiny houses are providing an alternative.
"Homelessness is an experience, it's not an identity."
In Hamilton, Ontario, about 70 kilometres west of Toronto, tiny houses on lane way lots, may soon be home to many of the city's homeless women.
Renee Wetselaar, a senior social planner with the Social Housing and Research Council of Hamilton, has been working on the initiative for seven years now. She says the idea was inspired by a project in Winnipeg with what's described as 'pocket-housing' in an urban environment.
Listen
It's been a step-by-step process. "We've developed a Hamilton Community Land Trust, where, what we're looking at is having some of these pieces of property held by a trust and then having development happen… it takes the price of the land out of the equasion and then makes home-ownership or development a little more affordable."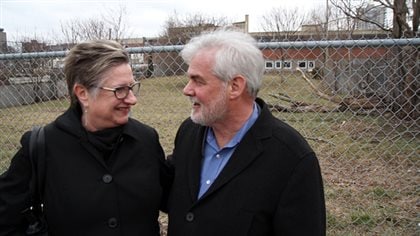 Wetselaar says "homelessness is an experience, it's not an identity." She says it can happen to anyone at anytime, with so many people living one or two pay-cheques away from the edge.
But, Wetselaar says, homelessness is different for women..
"We put a gender-lense on the work that we do around homelessness, particularly for women, because they're often, there's the aspect of domestic violence that may come into their lives that leads them to homelessness, obviously women make 70 cents on the dollar so there's obviously a disparity there for women that can often lead them to homelessness, and then when women are living on the street or precariously there are aspects where they sometimes get involved with with the sex-trade and that leads to a whole other level of vulnerability." she explains.
This plan for tiny duplexes in this project, is designed by architect Emma Cubit, with the intention of striking the balance between increased density and increased community. Wetselaar is no fan of high rise buildings.
"I think tall buildings in themselves have problems with their structure over time, the elevators break down, people don't feel a sense of control or ownership in those buildings  necessarily and so it creates a bit of a disconnect. But when we think about these little pieces of infill lot we can think about housing that is part of intensification but it's a lower density, and therefore, impacts less on a neighbourhood." Wetselaar says.
The SPRC is partnering on the project with the Good Shepherd, another Hamilton social agency. Once the zoning is regulated and the design complete, they're hoping to break ground next year, in tandem with the municipal election.
These tiny dwellings would consist of about 400 square feet. "It's not a lot of space," Alan Whittle of Good Shepherd told the CBC's Samantha Craggs, about the little home concept. "But it's a good sized one-bedroom apartment for somebody."