For defence and security policy wonks in Canada June has been a particularly busy month.
It all began with a rather remarkable foreign policy speech delivered by Foreign Affairs Minister Chrystia Freeland in the House of Commons.
She not only laid down some of the guiding principles of Canadian foreign policy but also outlined the Liberal government's ambitious determination to shoulder a greater burden and play a more independent role in the conduct of its foreign policy in an era of growing uncertainty over the future global role of its number one ally and protector, the United States.
That was then followed by the release of the long-awaited Defence Policy Review by Defence Minister Harjit Sajjan who outlined plans for massive investment in Canada defence capabilities.
Then the government released a report on cyber threats to Canada's democratic process and followed up by introducing new national security legislation, Bill C-59, that seeks to change Canada's national security architecture and balance the needs for security and the protection of fundamental rights of Canadians through proper oversight of the national security apparatus.
Uncertain times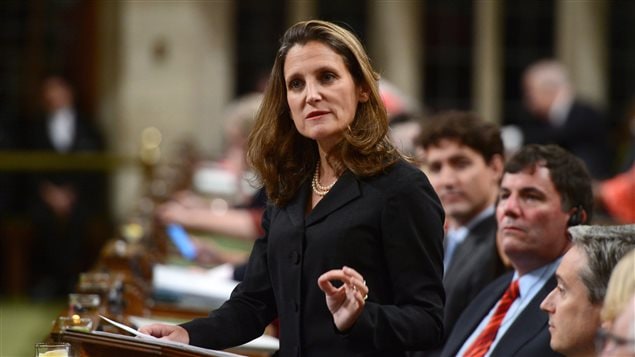 The thread that runs through all the recent policy announcements is the issue of the trust in the status quo, said Alex Wilner, assistant professor at the Norman Patterson School of International Affairs at Carleton University in Ottawa.
"Canadian officials seem to be signalling that the status quo assumption that the United States, our closest and neighbouring ally, has our backs in all contingencies is potentially at risk," Wilner said. "And this a larger global debate that we see unfolding in Germany, in France and elsewhere as it relates not only to the U.S. but also to the UK priorities."
(click to listen to the full interview with Alex Wilner)
Listen
The assumption moving forward is that Canada may have to stand for itself in some cases, that it can no longer rely on in all cases on the U.S. to meet all of its security needs, he said.
Freeland's foreign policy speech made it clear that at times Canada has to take its own "Canada First" approach, Wilner said.
"Part of that requires very good intelligence," he said.
Canada's eye and ears
But Canada is the only G7 country without a dedicated domestic and a dedicated foreign intelligence agency, Wilner said.
"The British have the MI5 and the MI6 – first doing domestic and the second doing foreign [intelligence] – the U.S. has FBI and CIA, the French have the DCRI (General Directorate for Internal Security) and the DGSE (General Directorate for External Security)," Wilner said.
"So Canada is kind of unique in the sense that we do have a very robust and a very successful intelligence apparatus through CSIS (Canadian Security Intelligence Service), CSE (Communications Security Establishment) and units at Privy Council and Foreign Affairs, but we don't have one agency dedicated solely for the collection of foreign intelligence."
However, Canada does collect foreign intelligence through CSIS and CSE. CSIS is allowed under Section 12 of its act to pursue foreign intelligence in investigative capacity, which means it does collect intelligence for national security purposes in foreign countries when it's deemed necessary for the protection of national security interests of Canada, Wilner said.
CSE does something similar when it collects foreign intelligence in the communications realm, he said.
Canada also collects and shares intelligence through the so-called Five Eyes alliance with the U.S., the UK, Australia and New Zealand, as well as through the binational North American Aerospace Defence Command (NORAD) and NATO, Wilner said.
"So it's not like we're flying blind in the foreign world," Wilner said.
Canadian Foreign Intelligence Service?
There has been an ongoing debate on whether CSIS should itself gain a foreign component or a stand-alone institution should be established to collect foreign intelligence.
"The Liberals over the last decade have been talking about doing that, but it's very costly, it would need to be trained appropriately of course, and it's not necessarily clear that it would do something totally different that we are not actually already doing," Wilner said.
It's also becoming difficult for many democratic states to draw a clear dividing line between domestic threats solely within their own territory versus foreign or international threats outside their territory, said Jez Littlewood, assistant professor in the Norman Patterson School of International Affairs at Carleton University in Ottawa.
"Borders between the threats are no longer domestic or foreign and so having intelligence capabilities that operate both at home and abroad under legal mandates, under certain conditions is probably the necessary hybrid that is going to be required for many countries, Canada included, for many years to come," said Littlewood.
(click to listen to the full interview with Jez Littlewood)
Listen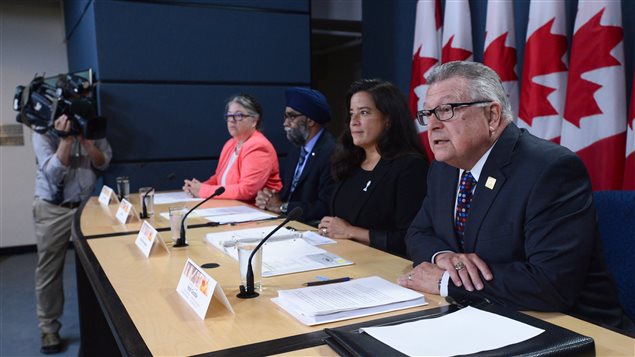 The recent policy announcements by the Trudeau government are part of an ongoing reorganization or reassessment of Canada's broader intelligence and national security community, as well as Canada's role in the world, said Littlewood.
The changes are also prompted by the constantly changing threat environment facing Canada and its Western allies, said Littlewood.
"Certainly, if we look at the Canadian Security Intelligence Service, it consistently identified over the last decade and the half that terrorism is the number one threat to national security and to the safety and security of Canadians," Littlewood said.
"At the same time, we would equally have to look at the growing influence and importance of the cyber realm and how that affects a number of national security issues: interference in democratic processes, the ability for violent extremist groups to propagate communications and encourage recruitment."
Canada needs a variety of tools and capabilities to be able to be able to meet those challenges and security threats many of which originate outside the country's borders, Littlewood said.
Evolving mandate
Stephanie Carvin, assistant professor at the Norman Patterson School of International Affairs at Carleton University, said she would have liked to see the government articulate more clearly its understanding of national security issues facing Canada, similar to the way how the foreign policy speech by Freeland laid the groundwork for the Defence Policy Review.
CSIS was formed in 1984 with a mandate to be a civilian domestic intelligence service. Its job was to collect information and then pass it on to the Royal Canadian Mounted Police for a criminal investigation into individuals suspected of engaging in either terrorism, espionage, foreign influence or subversion, Carvin said.
Over the last three decades, the understanding of the CSIS mandate has evolved, she said.
"I think what needs to be appreciated is that CSIS takes a very broad view of its mandate," Carvin said. "We do know that they have sent people overseas before, they do the kinds of things other countries do: they recruit sources, they get information."
(click to listen to the full interview with Stephanie Carvin)
Listen
The previous Conservative of Prime Minister Stephen Harper also expanded the CSIS mandate from investigating threats within Canada to threats to Canada, which can emerge from overseas, she said.
"I think given the broad understanding of its mandate that CSIS actually has and, given the way the world kind of works now, I'm not sure that having a foreign service would actually benefit Canada," Carvin said.
Beefing up military intelligence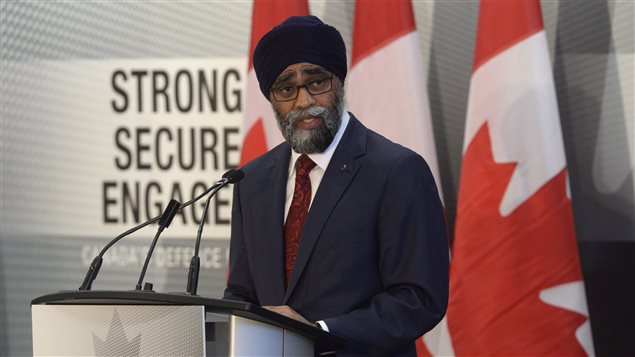 The Defence Policy Review unveiled by Sajjan also emphasized the government's commitment to beef up the military's intelligence capability.
The lessons learned by Canada and its allies in Afghanistan, Iraq and even during peacekeeping operations have brought military intelligence more to the fore for a number of countries, said Littlewood.
"Canada is often considered to have had a very military or defence intelligence capability when it embarked upon operations in Afghanistan to support the UN resolutions," Littlewood said. "And one of the lessons that we learned is the importance of intelligence as essential foundation or support to military operations."
There is an expectation that the Canadian Armed Forces will be called upon to engage in foreign military and peacekeeping operations more often and realization on the part of the Department of National Defence (DND) that it needs to beef up its intelligence gathering and analysis capability in order to be able to carry out these new tasks, Wilner said.
However, the DND also receives intelligence assistance from CSIS as was the case in Afghanistan, he said.
"So what the DND is asking for maybe simply more training, more money, more resources for personnel and including more analysts, but that doesn't necessarily require a stand-alone agency to be established," Wilner said. "I think that's the kind of sweet spot where we headed in Canada."
Developing cyber warfare capability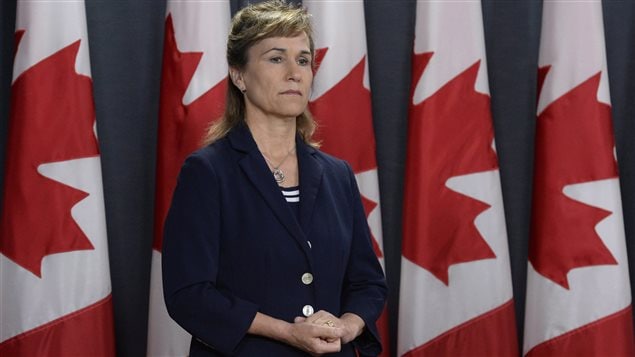 Part of the new national security legislation, Bill C-59, tabled by the Liberal government deals with the CSE's capability in cyber space, Wilner said.
"We know that the domain of war now includes cyber space, that cyber has joined air, land, sea and outer space as a domain of military conflict," Wilner said.
Canada already has a very robust communications intelligence capability through the CSE, he said.
What is less clear is how capable is the CSE of protecting Canada's cyber infrastructure and cyber institutions.
"Canadians need to have a debate as to how, whether and when Canada's intelligence and military systems will engage in the cyber realm offensively and in a deterrent capacity, and in a defensive capacity," Wilner said.
Carvin said she too was encouraged by the attention cyber security is starting to get.
"I think there is a realization that cyber is not just about people hacking in or ransomware attacks," Carvin said. "It's actually now becoming a threat to our democracy, that it is potentially going to play a greater and greater role in any kind of armed conflict that we have, and that it's vitally important we protect our critical infrastructure."
What keeps Canadian security officials up at night?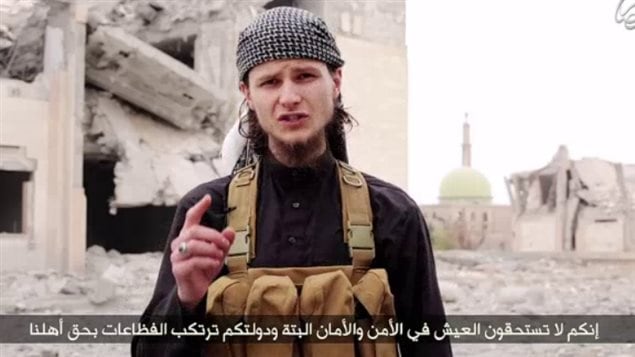 One of the biggest concerns that Canadian officials have is the potential political and economic fallout from a terrorist attack in the United States perpetrated by a Canada-based terrorist, Carvin said.
But the terrorist threat is also constantly evolving. From 2001 to 2011, intelligence agencies in Canada and its Western allies were preoccupied by the threat posed by the al-Qaeda and countering homegrown terrorists inspired by its example and ideology, Carvin said.
Then following the Arab Spring and the outbreak of the civil war in Syria and the emergence of the so-called Islamic State, intelligence and law enforcement agencies suddenly found themselves with the problem of hundreds of foreign fighters joining ISIS in Syria and the threat those fighters posed when they returned home, illustrated by the carnage at Bataclan club in Paris and attacks in Belgium last year.
But now that the Islamic State is slowly crumbling, security agencies are worried about low-tech attacks, for example, terrorists using vehicles to cause maximum casualties on crowded streets as was the case in the attacks in Nice and London more recently.