Eclipse watchers across North America are getting ready for the big experience on Monday, and hoping for clear skies.
In Canada, this one will be a partial eclipse experience of varying degrees. But that's not deterring anyone, scientific and cultural institutions of all types are opening their doors and welcoming people to come and share the encounter.
"It looks like a cookie from which someone took a bite"
Loic Quesnel is a scientific animator at Montreal's Space for Life, a complex that includes the Rio Tinto Alcan Planetarium, the Insectarium, the Biodome and the Botanical Garden.
Listen
"It looks like a cookie from which someone took a bite" is how Quesnel describes what we will see in the Montreal region, and much of eastern Canada.
While the entire complex will be welcoming visitors, the Planetarium will be hosting some special programming for the day, and will be free-of charge.
Quesnel says there will be several amateur astronomers with their telescopes on site to share the viewing, and most importantly, to do it safely.
"It really is like a dress rehearsal"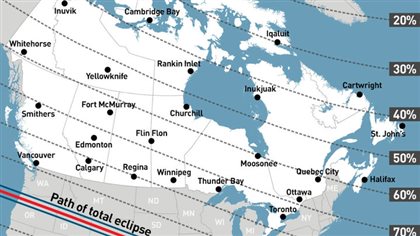 Monday's event will also feature some vision experts, advising people on why and how to take care of their eyes.
Many of the glasses being widely distributed around North America over the last week in anticipation of the eclipse are not adequate, and the warnings are going out to people to make sure they know where the glasses are coming from.
"We will have thousands of eclipse glasses for people so they can observe the sun safely" Quesnel says. They also have special telescopes which are designed only to observe the sun, and visitors will have access to them.
The Planetarium will also be screening the total eclipse live. They're not sure yet what location they'll be screening from, as there will be several live feeds over the internet, but despite the best efforts, Quesnel says the possibility of websites crashing is a major factor, as the whole world tries to be part of this cosmic experience.
The spectacle will begin around 1:20 pm est, until 3:50 with the maximum at 2:48 pm. 
For us, in eastern Canada, Quesnel says "it really is like a dress rehearsal" as we will be experiencing a total eclipse in 2024.
He describes observing an eclipse as a life-changing experience.
In 1999, on August 11th, Quesnel was with his parents for the total eclipse in France, in the city of Reims.
While he says it's hard to describe the effect, these are his memories:
"When the moon crosses exactly in front of the sun, suddenly it gets all dark, suddenly it's night during daytime, animals are freaking out, the temperature is decreasing spectacularly, you can see the corona of the sun, which you cannot see on a regular day even with special filters, it's kind of complicated to observe that, but here that's the only moment where you can observe it with the naked eye, because during the total eclipse, and only during the total eclipse, you can get rid of your eclipse glasses… it also is a moment that is special because that shows us our mastery of how we understand how the solar system works."
Quesnel says it's only relatively recently in human history that we've been able to know when eclipses will happen. Formerly it was an act of God, or the gods, with all sorts of meanings.
"We can predict when eclipses will occur, extremely precisely, but you don't want to miss that special event." Quesnel says.
"it's a very special mindset when you know that you will experience a total eclipse, you don't want to miss it." And he says people can become obsessed with the weather.
The long range forecast for Montreal is for clear skies and sunshine with a high of 28 C.  'Sounds perfect.