Alibaba, the Chinese online powerhouse, made a high profile debut of its mobile payment service in Toronto today.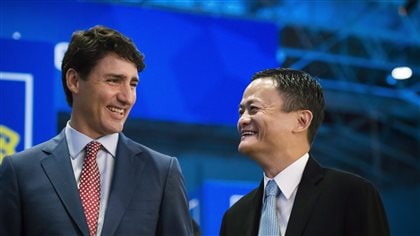 At its Gateway '17 conference, Jack Ma, founder and chief executive of the e-commerce site, with more than 450 million active users, was joined by Prime Minister Justin Trudeau, Ontario Premier Kathleen Wynne and Toronto Mayor John Tory
AliPay enables Alibaba customers to pay Canadian merchants who sign up for the program.
And AliPay also allows Chinese customers to buy products from Canada and other countries without the challenge of currency conversion.
The service will improve tourist businesses, as Canada is becoming a major destination for Chinese travellers.
"We want to continue offering Chinese consumers visiting Canada the ability to pay as they would in China," AliPay North America president Souheil Badran said.
"But we also want to offer Canadian merchants the opportunity to access the Chinese market." he said.
Alibaba was launched in 1999 and AliPay began in 2004.
Prime Minister Justin Trudeau spoke at the event to launch the web site and he was joined by several members of his cabinet.
AliPay is now the world's largest mobile payment platform having outgrown PayPal in 2013.
With files from the CBC