Heat wave warnings are being issued across southern Ontario and Quebec as temperatures remain above 30 degrees Celsius.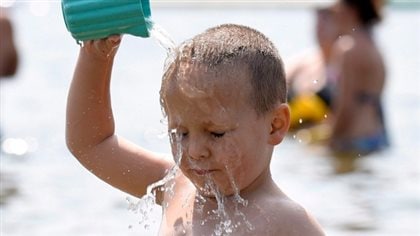 "Exceptionally warm and humid conditions will persist over Southwestern and Central Quebec through Wednesday with highs near 30 degrees and humidex values reaching 40."
We may be into the first week of the fall, but a summer sequel has many people in Eastern Canada taking precautions and heeding warnings to drink plenty of water and stay out of the sun at midday.
Public cooling centres have been opened in Toronto for people whose dwellings are too hot.
People are being advised to check in on the elderly, and extra attention is being paid to the athletes competing at the Invictus Games in Toronto.
In Montreal, organisers cancelled the full marathon yesterday, but the half-marathon went ahead, with many participants needing medical attention as the temperature climbed.
At 1:30 p.m. yesterday, it was 28 C in Montreal breaking the former record of 26.7 C set in 1968.
At this time of year, the normal high is around 17 C. Environment Canada says the hot weather conditions this upcoming week could break some records in the Montreal region.
A high pressure area just south of the Great Lakes is causing the warm and sunny weather. Meteorologists expect it to break on Wednesday…